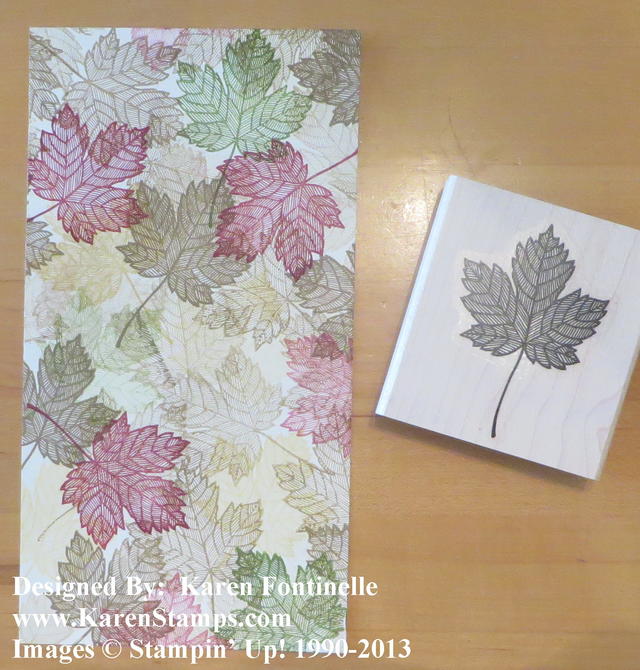 The Magnificent Maple single stamp is just perfect for fall stamping projects, and perfect for today, the first day of fall. This is one way creativity starts:  I picked up a scrap of Very Vanilla card stock and used the "One Sheet Wonder" technique of random stamping all over the paper. I inked up the maple leaf stamp and stamped on the paper and then continued stamping without reinking on the same paper. Then I changed to a different color ink and did the same thing. The colors I used were Baked Brown Sugar, So Saffron, and Cherry Cobbler. You could even just use one color and with the "stamping off" without reinking you would still get an interesting background.
To make cards or use on a project, just cut the stamped paper into pieces of whatever size you want. There are templates out there for cutting a full sheet of paper and making a mulitude of cards, but all you have to do is cut the sizes you want.
You will find this stamp, ink and paper in my Stampin' Up! Online Store here!
The Magnificent Maple stamp really is a magnificent design, I think, and will make many beautiful projects for fall or any season in your paper crafts.This is a technique you can use to make your own patterned paper or decorative paper that you can then use in making greeting cards using the pieces or decoratively on scrapbook pages. Take some time to get out your basic card making supplies: paper, ink and stamps and go to town!  You might be surprised at what you come up with! Trying the rubber stamping one sheet wonder technique would be a good way to enjoy the first day of fall while you watch your favorite football game!