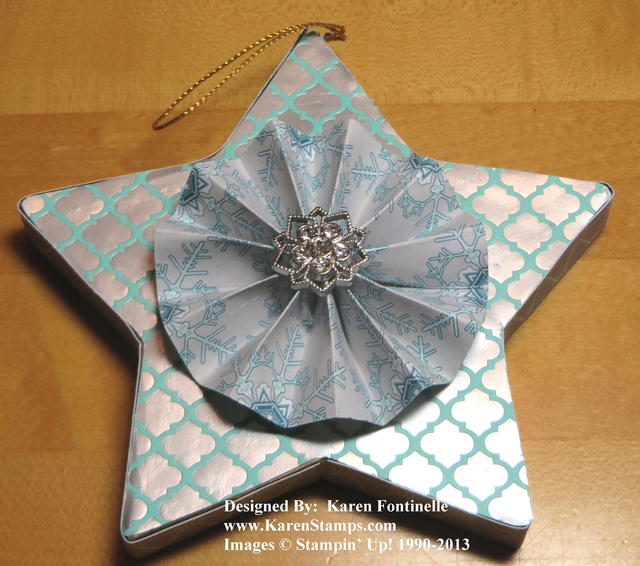 Make this easy paper mache star Christmas ornament for your tree or for a package decoration that the recipient can keep as an extra gift! Look in your stash or go to the craft store and get some of those paper mache ornaments like this star. Cover with designer series paper and embellish and you've got yourself a lovely Christmas ornament!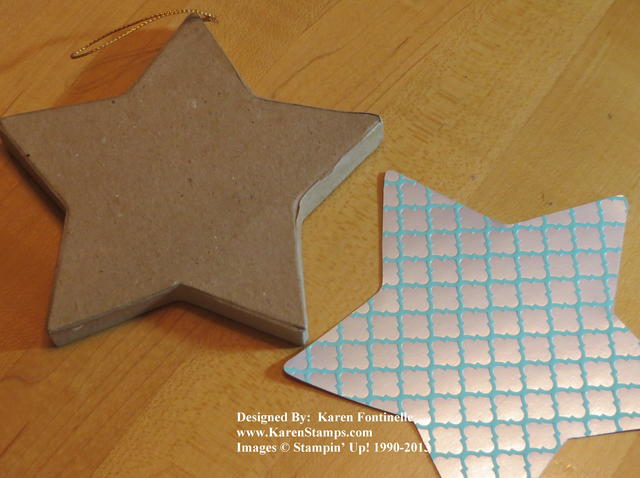 I just traced around the star on a piece of Winter Frost Designer Series Paper.  This particular sheet has a shiny foil look to it so it is especially beautiful! If you pay attention to how you are tracing the paper and which direction you traced around the star you might get it to fit exactly right! Otherwise, place it so that it fits the best on your ornament and if there is any excess you can trim it off with your Paper Snips or retrace a little. Just get it as close as you can.  It doesn't have to be perfect!  Adhere the paper to the ornament with some Tombow Multipurpose Glue making sure it sticks well along the edges.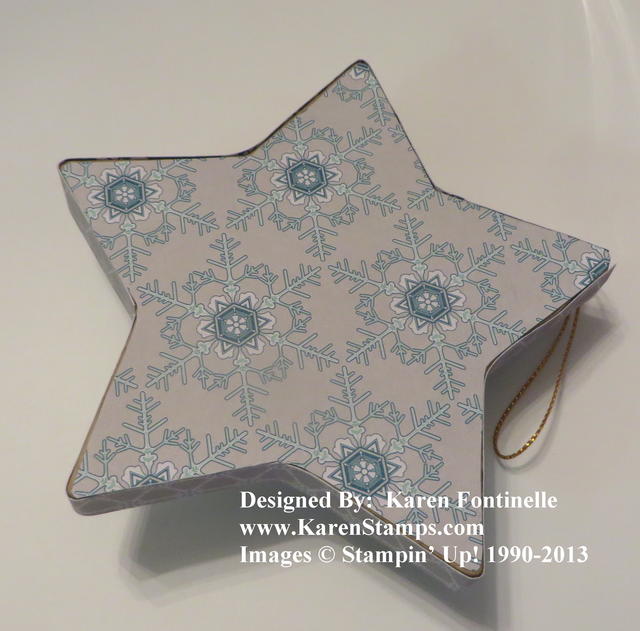 Put the same or another pattern of paper on the backside. Also adhere a narrow strip of designer paper around the side of the ornament.  Mine was about 1/2″.
And then decorate to your heart's content – or even leave it plain depending on your paper.  I made a rosette out of a 12″ strip of designer paper.  I think it was about 2″ wide and scored with my Simply Scored Tool every half inch. I glued the ends together and then scrunched it into the rosette shape and adhered with a blob of hot glue in the center. Then it was ready to go on the front of the ornament with another blob of hot glue. The finishing touch was the beautiful Frosted Finishes Embellishments.
Look in your stash and see what you have!  It's cold and frosty across a big part of the country, including Houston – well, cold, not frosty (yet!) – so a good day to stay in and make Christmas ornaments, cards and crafts!  Enjoy!