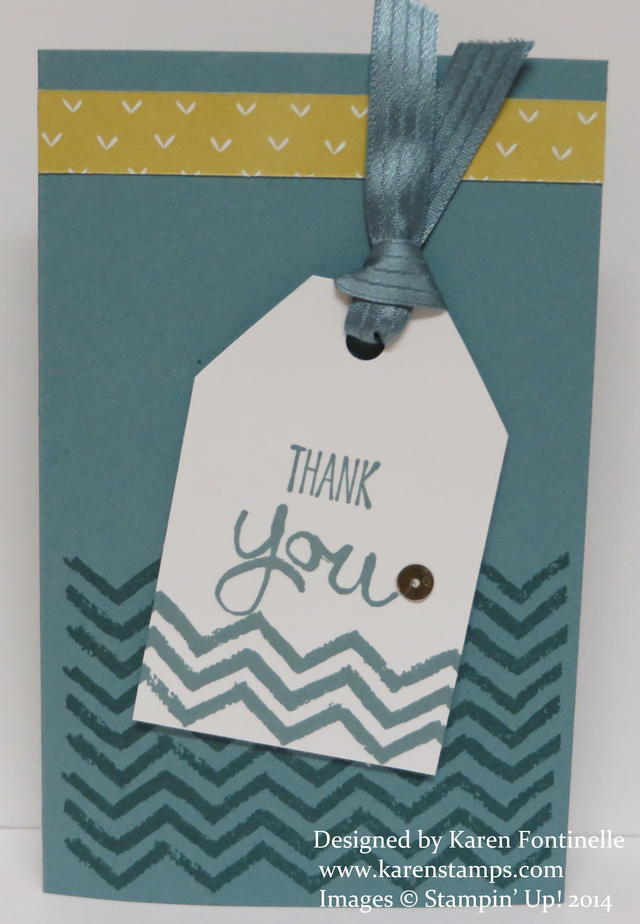 I had fun making this smaller size card using Lost Lagoon card stock, one of the new In Colors, and stamping it with the Work of Art stamp set, a set that is already very popular. Being a Stampin' Up! Demonstrator comes with many perks, one of them being receiving a special magazine every other month called Stampin' Success. That magazine is one of everyone's favorite things about being a Demonstrator!  I made this card copying one of the samples in that magazine, although the sample was a little gift bag! But it could also look like a card so that is what I made.
The Stamp-a-Ma-Jig came in handy to get those chevron lines at the bottom just right. The stamp in Work of Art has three lines on it so I stamped it three times. The Stamp-a-Ma-Jig is really easy to use and certainly comes in handy now and then when you don't want to just "eyeball" something. The greeting is also included in the Work of Art stamp set. The card actually measures 3 1/2″ across and 5 1/2″ tall, so cut the paper 7″ wide.
I cut my own tag, but a better idea would be to use the new Tag Topper Angled Punch. No measuring, getting the corners even, just punch! The ribbon is the new Lost Lagoon 3/8″ Satin Stitched Ribbon. The strip of designer paper at the top is different than the sample in the magazine but I used the Lullaby Designer Series Paper rather than a strip of Lost Lagoon as in the sample.  And I added a tiny bit of bling, a sequin from the Gold Sequin Trim.
You might as well put that Work of Art stamp set on your order!  You're going to be seeing a lot of it from me and from other stampers! It's just a fun set! And if you don't already have the Stamp-A-Ma-Jig, I would go ahead and order that, too! You'll be real happy you did every now and then!
Don't forget, today is the last day for the current Weekly Deals! Shop at my Online Store!