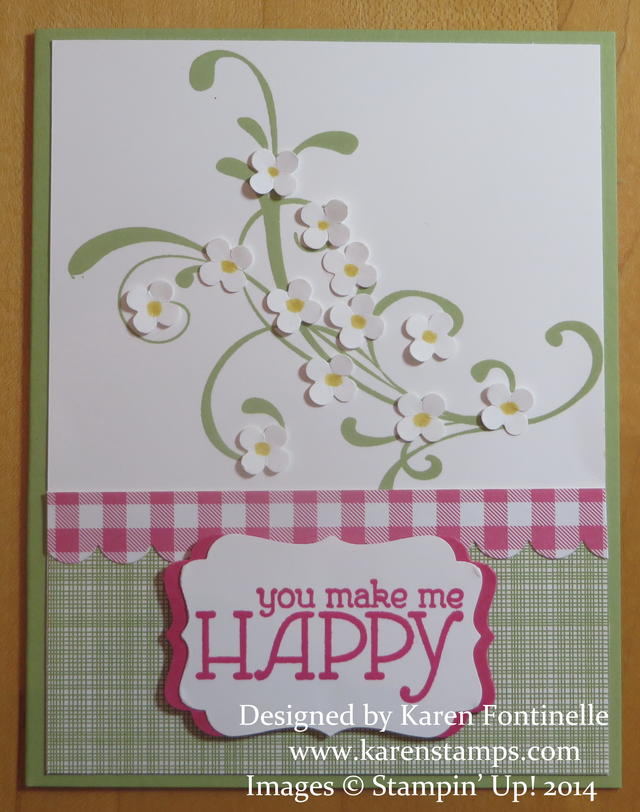 If you wonder how we get inspiration to make cards and other projects, sometimes it doesn't take any more than going out in the front yard!  Our Carolina Jasmine is blooming right now and oh my, I wish this blog had "Smell-O-Vision"! That flowering vine has the most amazing fragrance! The scent must waft into the air easily because often we can smell it better being away from it, like back in the driveway, than standing right next to it. Those beautiful little white flowers really smell GOOD!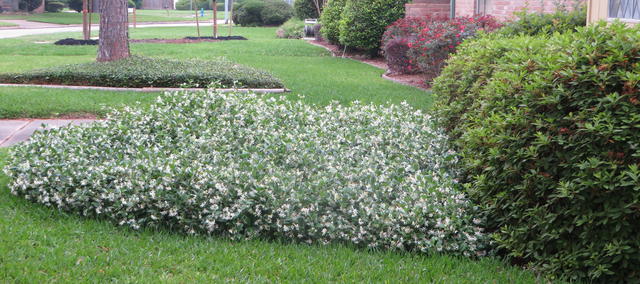 Here's one bunch of it. It used to be a ground cover around a pine tree, which was diseased and we finally had to cut it down.  No more worrying that the tree could come crashing into the dining room during a bad storm! We love it when the jasmine blooms and smells so sensational!
On my card, I used the vine in Everything Eleanor. This is a stamp set that is NOT retiring so you should be able to order it easily. The vine is stamped in Pear Pizzazz ink on Whisper White card stock.  The little piece of designer paper at the bottom is from Gingham Garden. I loved that pack of designer paper and it is on the Retiring List so be sure and get it if you want it. The little flowers were punched with the one little punch in the Itty Bitty Shapes Punch Pack. This is also on the retirement list. I've used those little punches a lot. The greeting is from Happy Watercolor in the Occasions Catalog. The punch I used is the versatile Decorative Label Punch.
Here's how to make the little flowers pop up a bit to look like the jasmine on my vine. Use the Paper- Piercing Tool and Stampin' Pierce Mat. Just use the opposite end that you would use for piercing and push down in the center of the little flower on the mat. Color in the center with a marker or use a little jewel or Candy Dot in the center.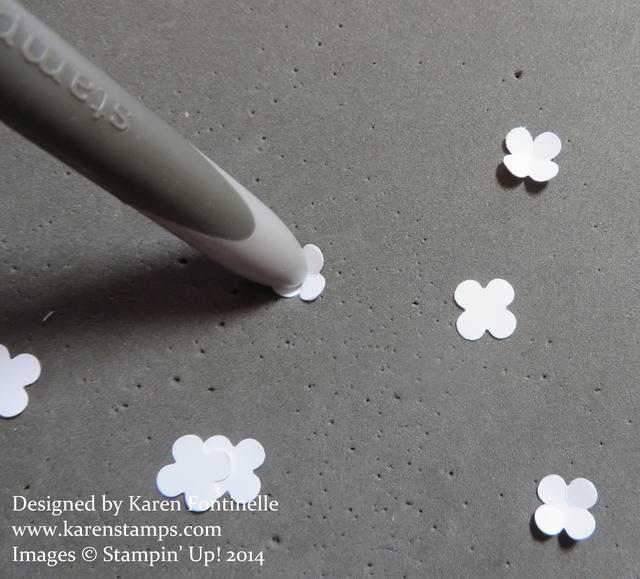 For any of these great stamp sets or supplies, please visit my Stampin' Up! Online Store!  Be sure you check the Weekly Deals, the Clearance Rack, the Retiring List, and more!