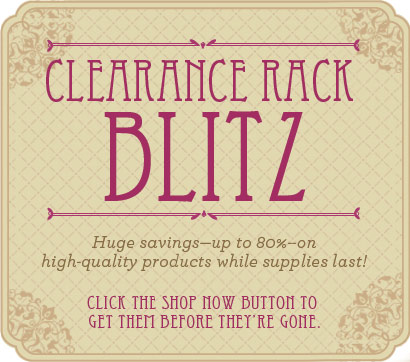 Today, January 5th is the last day for the Stampin' Up! Clearance Rack Blitz. Back in mid-December, over 200 items were added to the Clearance Rack at discounts of up to 80% off, while supplies lasted.  Many of these items did sell out, but today is the last day to view the full remaining selection.  The Clearance Rack includes old-body style punches. There is no minimum purchase and you can include regular-priced items on your order.  The only thing is it must be an online order so that you will know immediately whether an item is still available. Click on that link so you will go directly to my online store…..if you have an order of $150 or more you will receive Hostess Rewards (hostess benefits…free stuff!)
***Following the Clearance Rack Blitz sales period, some blitz items may remain in the clearance rack; others may be removed and reappear at an undesignated time in the future.  Clearance Rack Blitz items are only available while supplies last. There are no refunds or exchanges on Clearance Rack items.
Go check out the Clearance Rack today!!! When you get to the Clearance Rack page, on the right side click on "Show:  ALL" so that you can easily see all the items….or continue to click on the next arrow to move past page 10.  Just a tip!