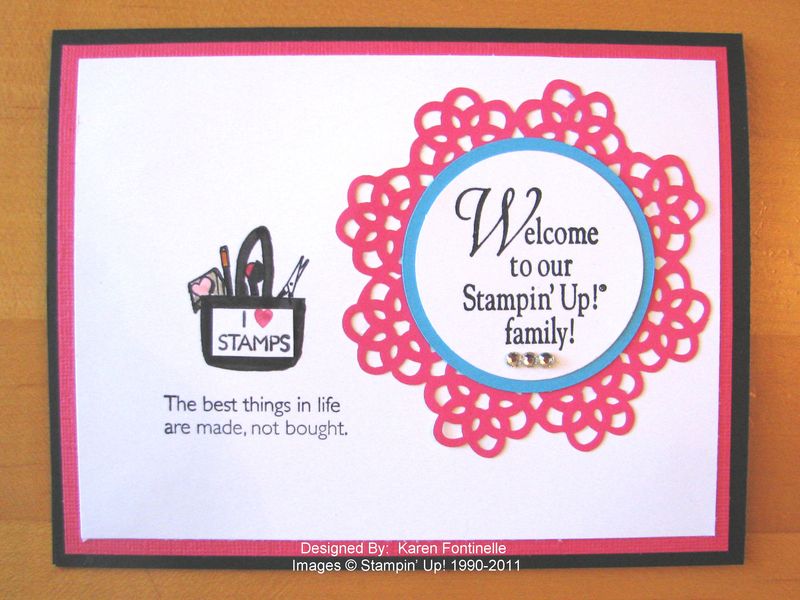 Want to get this card….or a similar one?  Just become a Stampin' Up! demonstrator on my team and I'll send you one!
Start your own business and be your own boss! Can you imagine how fun it is to HAVE to stamp and create and get together with other stampers for your JOB?!  
Join now in October and get a free Big Shot from Stampin' Up! (or $100 in product) after you purchase your Starter Kit.  Starter Kits are customizable…you can choose another color of ink or choose another stamp set other than the recommendation.  You can choose the Standard Starter Kit or the Digital+ Starter Kit. Check out this Stampin' Up! Starter Kit Order Form.
Ask me any questions you may have.  When you are ready, you can sign up online at my website….then just click the "Join Now" button on the left and become a Stampin' Up! Demonstrator in minutes! They will email you your demonstrator number and you will be ready to start your own rubber stamping and scrapbooking business…in whatever form you want to take it.
Want more information?  Just contact me at Karen@Karenstamps.com. It's that easy!!
You can become a Stampin' Up! demonstrator any time, but during October is the best time because you get a free Big Shot, which we all love! Think about it!  Offer ends October 31, 2011.  
Don't wait until Halloween night!