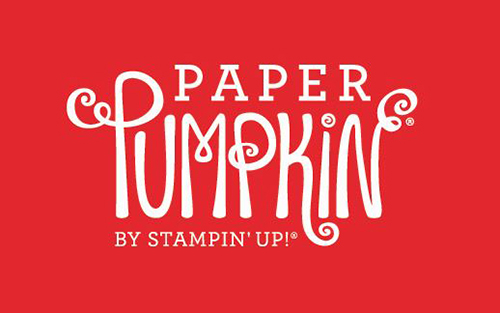 Today is the day, July 10th, that you need to subscribe to Paper Pumpkin so your July 2017 Kit will arrive in the mail around mid-month! It will come very quickly, but you have to subscribe first!  And the 10th of any month is the deadline for that month's kit! You know you've wanted to do it, you know you've meant to sign up, you know you always forget and think you will do it the next month! Sign up today so you get a kit right away!  They will begin shipping about July 15.
Why should you join Paper Pumpkin? Because Stampin' Up! did all the work putting together a fully designed project kit that arrives at your door each month with stamps, ink and paper! Everything is cut and ready to go for you so you can get right to the project! No wondering what project you should make, gathering the materials or even owning a lot of materials if that's not your thing. Paper Pumpkin is good for sharing, too!  Order an extra kit to do with your child or grandchild or neighbor or friend!
Each month is a surprise – it might be cards, gift packaging, a home decor item, or anything! Your first kit comes with a special Paper Pumpkin acrylic block to hold the stamps in each kit. Each month you will receive an ink spot, an exclusive stamp set, and all the materials you need for the project, plus directions and a link to a video.  You can check the Paper Pumpkin Pinterest Board if you are looking for more ideas for the kit.
This was the cute Paper Pumpkin Kit for June 2017!

And here's a video to help you out or to enjoy!

Going to a friend's house for a swim party or barbecue?  Just stick a little treat in one of these gift bags or wrap up some of the notecards for a little hostess gift.
Paper Pumpkin is by subscription only, so get signed up today so the July Kit can be shipped to you mid-July.  Once you are a subscriber, you can also look at any past kits or refills that Stampin' Up! is offering if you want to pick up something you missed.
You can subscribe by the month or if you are ordering regular products from Stampin' Up!, choose a prepaid option in the Online Store and perhaps boost your order total to earn Stampin' Rewards! You will receive an email detailing how to set up your Paper Pumpkin account and a code to put in the Promo Code box so it will identify you as a prepaid customer.
or
Either way, the fun will arrive in your mailbox around mid-month. No risk, no obligation. Skip a month now and then if you need to. Get an extra kit for a friend or loved one. The Paper Pumpkin fun never ends! Sign up TODAY so you don't miss the July 2017 Paper Pumpkin Kit!