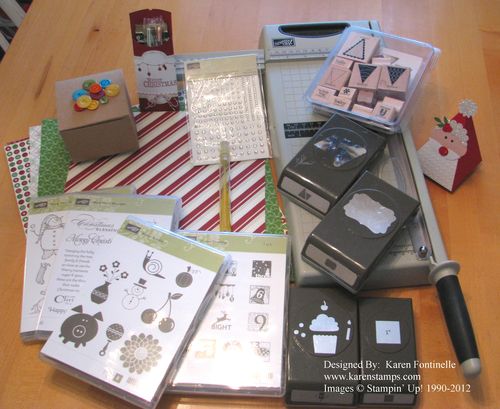 Today is Cyber Monday, the day lots of people shop for the holidays from their computer rather than hitting the stores (which they already did on Black Friday!). Of course Stampin' Up! has the Online Extravaganza STILL going on, so while you are at your computer anyway today, it's a good opportunity to shop Stampin' Up!
If you place an order with me today on Cyber Monday you will find a little surprise in your Christmas stocking!
These bargains are so great! I was going to make this post about several of my favorite items on the Online Extravaganza List…but then I kept writing and writing and writing! So I took a picture of just a FEW of my favorite things on the list…there are more!
But here are a few of my top recommendations from the Online Extravaganza list!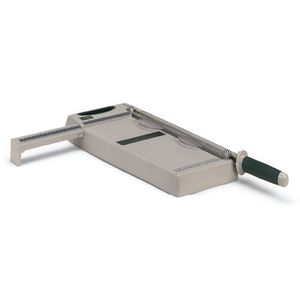 Tabletop Paper Cutter #106959 30% Off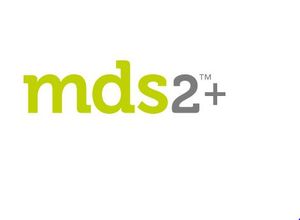 My Digital Studio Version 2  #130646  50% Off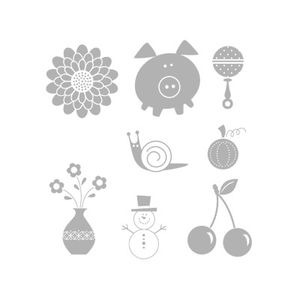 Button Buddies Stamp Set 50% Off
Let's go over the Online Extravaganza List:
20% Off
Of course the Brights Designer Series Paper Stack is useful all the time..and the Be of Good Cheer DSP you can use right now for Christmas! Several of the sheets you can use anytime, not just for the holidays!
25% Off
More Merry Messages Stamp Set you can use right now for Christmas cards and tags and projects.  The Happy Hour Stamp Set is kind of fun to have on hand! The Northern Flurry Embossing Folder makes beautiful cards, tags, gifts.
30% Off
The Smooch Spritz Bundle…fun for a little "oomph" on your cards and projects! You HAVE to have the Kraft Gift Boxes…not just for the holidays, handy to have on hand, easy to decorate simply or elegantly.  Ribbon Bundle...love these ribbons! Rhinestone Basic Jewels…don't tell me you don't have any!  You certainly need more! Brights Designer Buttons…cute any time and goes well with the Button Buddies Stamp Set. Anywhere Glue Sticks…a must have. Stampin' Spritzer…cheap and great for mixing your own sprays. Tabletop Paper Cutter…everyone loves this! All the punches listed…gotta have them all! Petal Cone Bigz Die…so many cute things you can make with this starting with the holidays, but use all year!
40% Off
Pennant Parage Bundle can be used in so many creative ways.  Be sure to get the matching punch for 30% off.
50% Off
Snow Much Fun Stamp Set…you always need another snowman and you can use this set right now!  25 & Counting Stamp Set…want to make an advent calendar? Come to Bethlehem…a very pretty religious stamp set. You Are Loved…perfect for Valentine's Day and other times…I just ordered mine on the past sale after loving it from the Holiday Mini LAST year!  Button Buddies Stamp Set…cute set, with or without the buttons, versatile for lots of occasions…and 50% off!! And need I say more…the newest version of My Digital Studio software with TONS of content…MDS 2+…..50% off!  Can't pass this up!
Some people haven't realized this list of sale items had different discounts…and I even made a mistake writing this post…so check carefully and you might find you can get a better deal than you thought on a certain product!
Shop at my Online Store and see the products listed by discounts!
You can also add any other Stampin' Up! products to your order, including the Clearance Rack.
Let me know if you have any questions!  Happy Shopping!