I was looking through the new Stampin' Up! 2009-2010 Idea Book & Catalog  the other day (well, almost everyday!) and just saw lots of things I wanted to make.  This card was inspired by the scrapbook page on page 16 of the catalog.  That particular day I just liked the colors shown on that page and decided to make a card with the hostess set, "Kind and Caring Thoughts".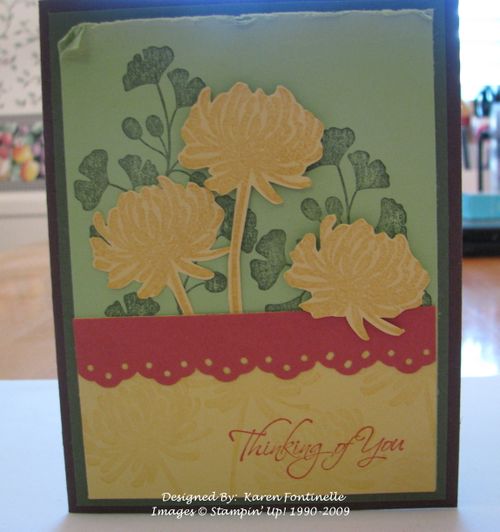 The colors are Chocolate Chip, Always Artichoke, Certainly Celery, So Saffron and Ruby Red.  I seldom use Ruby Red unless maybe in the fall, but I love it with these colors!
This hostess set is great…..the flowers and leaves are nice and lots of great sentiments.  If you'd like to possibly earn this set for free having a private stamping class with your friends, just contact me!
Sign up for my free stamping newsletter in the Email box!