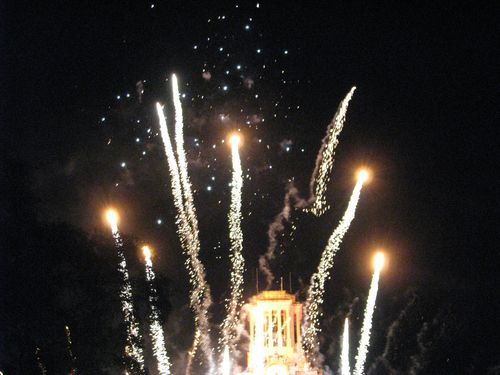 I just love watching fireworks on July 4th or any time any place, and I'm sure lots of you do too!  I've tried to take photos of fireworks many times, and usually they don't turn out very well. But with my current camera (still a point and shoot) I'm getting closer to getting some good shots of the fireworks. Today, in my email from Photojojo.com, I was directed to some tips for taking good fireworks photos.  They have eleven great tips here. They strongly recommend using a tripod (as in "Bring a tripod, bring a tripod, bring a tripod.") and finding a good location early where you can look straight at the fireworks, not just up.    Some cameras even have a fireworks mode to shoot with (I'll have to check mine!). But you can read the camera-setting details for yourself.
A couple other suggestions I liked were:
Being near a body of water is good for the reflection of the fireworks (we usually are by a small lake in a park for our fireworks viewing!).

Include some buildings or landmarks which often add to the composition of the photo.




Turn your flash off!

Turn your camera for a portrait-oriented shot for a rocket's rise and explosion, but to capture multiple explosions, shoot in landscape.

Don't forget the best comes at the end…the Grand Finale….so save some space on your memory card for that!
And my own tip……don't forget to take some pictures of the people you are with, not just the fireworks!
And when you are ready to scrapbook those photos, a quick and easy way to do it is with My Digital Studio from Stampin' Up!  You can make an album to print out or a few pages, or a multi-media presentation to share with your friends and family.  Contact me to find out how to order or go to my Online Store.