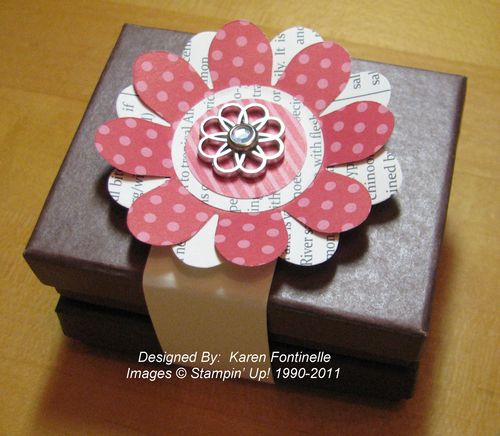 We all need ideas on how to gift wrap presents sometimes!  I was late getting my friend's gifts mailed to her, but this gift wrap idea came to me when I saw these Big Shot Flower Folds die cuts (#115970) laying on the table.  They were cut from both the Real Red Patterns Designer Series Paper #117155 and the First Edition Specialty Designer Series Paper #121878 in the Occasions Mini.  I put them together, liked what I saw, and added a Filigree Designer Brad #112577 with a Clear Rhinestone Brad #113144 to hold it together.  I wrapped a band of card stock around the boxes and adhered the flowers to it!  You might recognize that the brown boxes are from the Stampin' Up! Simply Adorned line of jewelry.  For being so spontaneous, this gift wrapping idea turned out to be very cute and my friend liked it!
There's more to stamping than Stampin' Up! cards!  Next time you need to gift wrap something, think of Stampin' Up! ideas, using your stamping supplies and maybe the Stampin' Up! catalog for inspiration!  It's a great source for ideas for all sorts of things.
Need anything from Stampin' Up!?  Just shop at my Online Store HERE!  Sale-a-Bration is still on until March 31!  Don't miss out!