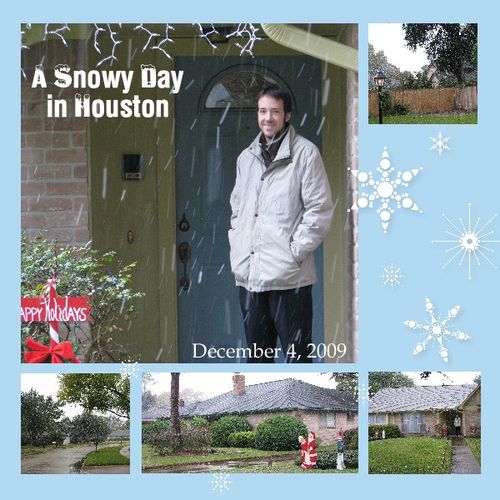 Copyright Stampin' Up! 2009
My Digital Studio makes it easy to make up a scrapbook page to commemorate a special event, such as when we get snow in Houston, TX!  
It snowed like crazy all day yesterday, and at our house we probably had an inch of snow. I think our big tree in the front yard kept the snow from falling on most of the yard.  So in the end, the big snow doesn't really look like much, especially if you are from somewhere up north!  But for Houston, it was quite the excitement!  The temperature even dropped to 26 degrees last night so this morning it was real wintery weather!  The car had to be started early to warm up, the ice scraped off the windows, and just to make it real, three of the four car doors were frozen shut!  Although we were lucky the roads had a little bit of time to dry before the freeze hit and that the road crews had had time to prepare, there still were a few icy spots, enough to cause a few accidents this morning.  
However, we were not kept from getting our son downtown to his appointed exam at 8:00 AM…luckily!  We could have worried that he would get sick with the flu on this date or that we would have so much rain the streets would be flooding, but we NEVER would have guessed that we would worry about SNOWY ICY ROADS! 
Be sure to click on the link for MY DIGITAL STUDIO to learn more and see how you could be making scrapbook pages and other papercrafting projects after a snowy day!