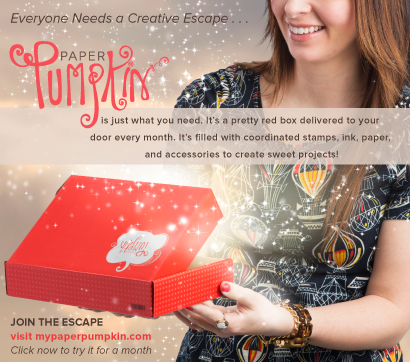 Get the June Paper Pumpkin Kit for Half-Price if you sign up TODAY!  Use the Promo Code: SHELLIDEAL.
What: 50% off June's kit
When: Subscribe by Friday, May 23
Where: SIGN UP HERE  or call 1-800-STAMPUP
How: Enter the promo code SHELLIDEAL 
Paper Pumpkin is a monthly surprise papercrafting kit you receive in your mailbox! It comes in a cute red box and is wrapped up like a present on the inside.  It's a gift for yourself, or someone else you choose, to take 30 minutes to make a quick and easy craft project of some sort. Each month is a surprise! And the kits have only gotten better since the beginning of the year!
This special is only for the June kit. The regular price is $19.95, which includes shipping! Use the special code SHELLIDEAL in the Promo Code box you will see on the page. Click the CONTINUE button and you will see $9.98 subtracted from the price at the top of the next page.
No obligation! Just cancel your subscription by the 10th of the following month to stop your subscription.
If you have any questions, email me at Karen@KarenStamps. com or you can call Stampin' Up! directly for help at 1-800-STAMPUP.
Watch Shelli's video below if you like!
Remember:  This offer is only good through May 23.  HURRY!  
Surely you deserve 30 minutes of crafting time easily laid out for you!
Click HERE to sign up! Even if just for a month!  Try it out!