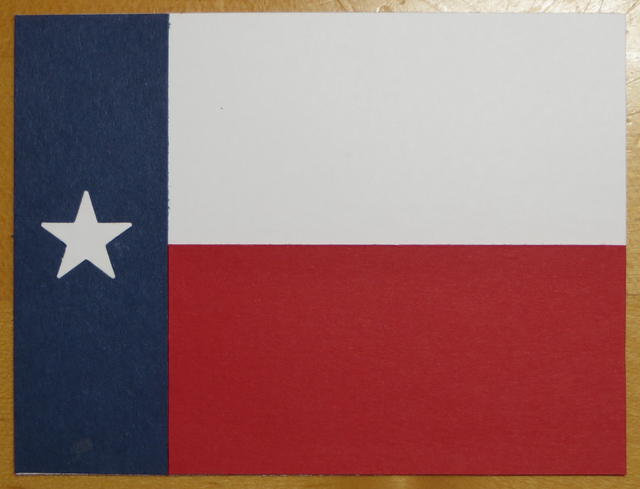 I'm glad the Texas state flag is easy to make with just red, white, and blue and a white star! Starting today, August 8, the Texas Sales Tax holiday will be in effect through August 10 to help parents save a few pennies with all the before-school-starts purchases! And when you are buying a lot of things, those 8 pennies on every dollar do add up.
To save a few shopping minutes, there are some items you can order directly from Stampin' Up! that count as school supplies, as long as each item is priced under $100. You can spend more than $100 total but any item (like the full set of markers in a case) that costs more than $100 would not be eligible. You don't have to have children in school in order to take advantage of the school supplies! Stock up on general items like adhesives, scissors, markers and pens while you can save a little bit of money, if you live in Texas! Even if you don't have children in school, you never know. Some night your neighbor may call and ask if you have any glue for her child's science fair project or report she just found out about!
Stampin' Up! sent out a letter to Texas demonstrators to pass on to their customers:
"The state of Texas is having a sales tax holiday for school supplies up to $100 per item from August 8-10. States typically define School Supply as "any item normally used by students in a standard classroom for educational purposes." Because school supply items are included in this sales tax holiday, the list of items below will be state tax-free during the holiday period. Please note that you must place your order with Stampin' Up!® during the tax holiday period in order to receive these items tax-free. Also, keep in mind that this is a state sales tax holiday and may not apply to additional county, city and special jurisdiction taxes."
The following items are tax-exempt during the Texas sales tax holiday:
·         2-Way Glue Pen (item 100425) $4.50
·         Snail Adhesive (item 104332) $6.95
·         Snail Adhesive Refill (item 104331) $4.50
·         Sticky Strip (item 104294) $6.95
·         Stampin' Dimensionals (item 104430) $3.95
·         Mini Glue Dots (item 103683) $4.95
·         Paper Snips (item 103579) $9.95
·         Craft & Paper Scissors (item 108360) $29.95
·         Uni-Ball Signo Gel Pen (item 105021) $3.95
·         Blender Pens (item 102845) $9.95
·         Stampin' Write Markers (various item numbers) $3.50
·         Subtles Stampin' Write Markers (item 131263) $28.95
·         Regals Stampin' Write Markers (item 131262) $28.95
·         Brights Stampin' Write Markers (item 131259) $28.95
·         Neutrals Stampin' Write Markers (item 131261) $22.95
·         Tombow Multipurpose Adhesive (item 110755) $3.95
·         Anywhere Glue Sticks (item 104045) $3.95
·         2013-2015 In Color Stampin' Write Markers (item 131260) $14.95
·         2014-2016 In Colors Stampin' Write Markers (item 133654) $14.95
·       · Project Life Journaling Pens  (item 135304)  $4.95
·         Stampin" Dazzle markers gold and silver (item 133634 & 128978) $3.50 ea
·         White Stampin' Chalk Marker  (Item 132133)  $3.50
·         Blendabilities Markers (Item all)  $11.95 ea
·         Blendabilities Skin Tone Assortment Markers (item 129370) $22.95
·         Fringe Scissors (133325),  $9.95
Note that the Blendabilities Markers are listed! Lots of good, basic supplies in this list that you will use all the time.
Shop at my Stampin' Up! Online Store this weekend during the Texas Sales Tax Holiday!