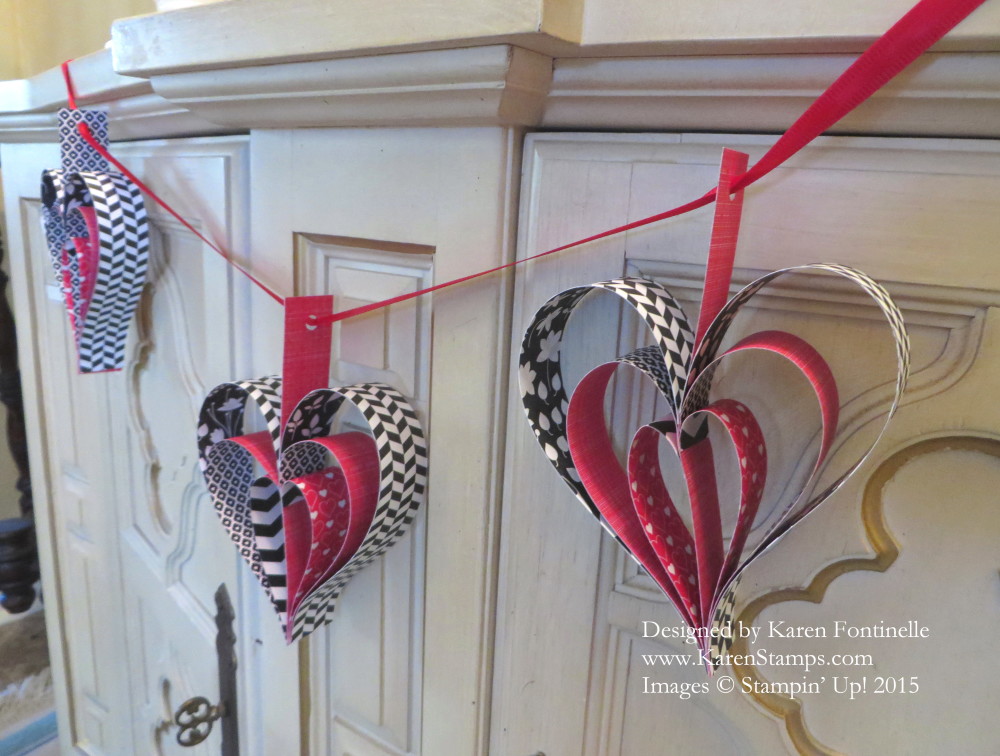 These heart garlands made with strips of paper are quite popular on the internet. Once I found one of these hearts, I found them everywhere! I wanted to use the Stacked with Love Designer Series Paper Stack but I also needed 8″ long strips. Luckily Stampin' Up! has the Back To Black Designer Series Paper that I could use with the Stacked with Love papers.
There are some other methods of assembling them, but they are all easy to do. While we think of hearts for Valentine's Day, this garland could be made for weddings or party decorations. Change the paper color and design for other occasions. Think how cute this would be for a baby shower or bridal shower!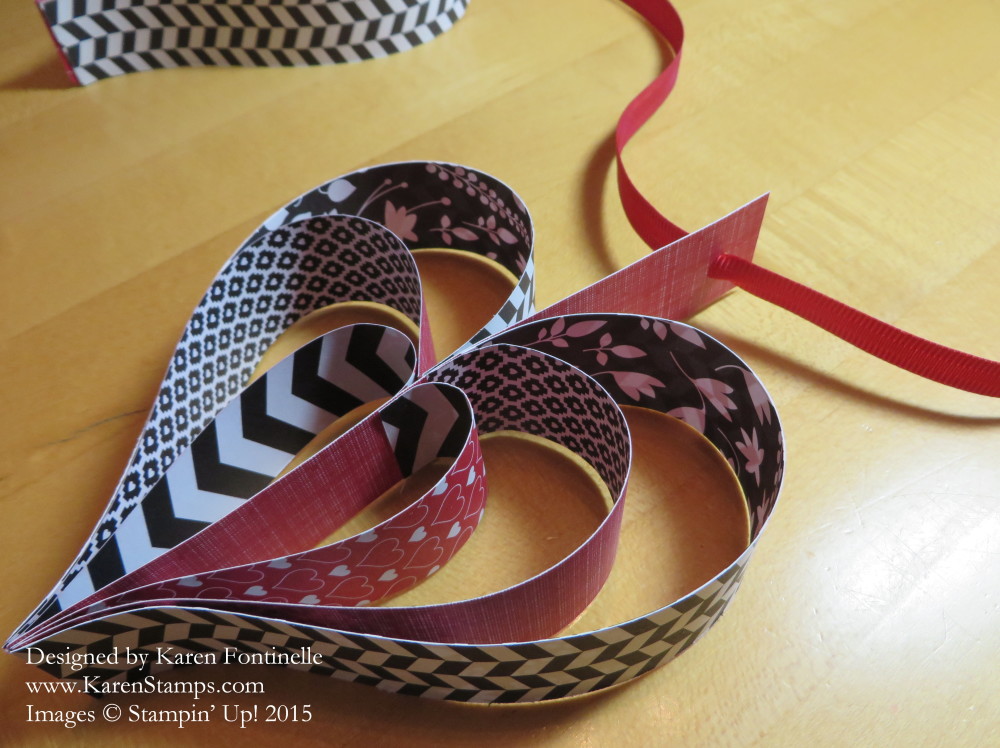 These are the instructions I followed to make these paper hearts. You can also find slightly different
directions using staples instead of glue and assembling the strips in a different way.
Cut 1″ wide strips of paper in these sizes:
2 – 8″ strips
3 – 6″ strips
2 – 4″ strips
Lay these strips out on the table in this order:
8″, 6″, 4″, 6″, 4″, 6″, 8″
The 6″ strip in the center is the center strip that will remain straight and become the hanger. Checking the way you want your paper patterns to go, adhere the bottom edges of the three strips on one side of the center 6″ strip. One time I used Glue Dots and the other hearts I used Liquid Multipurpose Glue (the green glue!). You just have to hold for a few seconds when you use the glue until it sticks. Glue this stack of strips to the center 6″ strip also at the bottom.
Then take the 4″ strip in the glued together stack, bend the top, put some glue on the end that will attach to the middle area of the center 6″ strip.
Next do the same with the 6″ strip.
And finally the last 8″ strip.  Then you have half of your heart.  Do the same with the strips for the other side.
Punch a hole in the top of that center 6″ strip for each heart to thread ribbon through to hand. I used the Real Red 3/8″ Satin Woven Ribbon that was in the Holiday Catalog. I wish they had carried that over because it is SO pretty! But you can also use the Real Red 1/4″ Cotton Ribbon or any ribbon of your choice. You might even want to tie extra ribbons on between the hearts or add other decorations of some kind.
This is an easy papercraft to make and certainly is versatile for many occasions! All you need are paper strips and adhesive!
For any papercrafting supplies or stamping supplies you need, please visit my Stampin' Up! Online Store. I can always put your order in for you if you like. During Sale-A-Bration, choose a FREE product from the Sale-A-Bration Brochure with every $50 purchase (before shipping and tax).