It's always a good time to sign up to be a Stampin' Up! Demonstrator, but right now, during Sale-A-Bration is an especially good time!  The Starter Kit, which is normally $175 is discounted 15% during Sale-A-Bration which means you can start your own business in minutes and become a Stampin' Up! Demonstrator for only $148.75 until March 31, 2011.
If you would like to hear directly from Stampin' Up! about the company and about becoming a Demonstrator, you will have an opportunity to attend a special phone call on Tuesday, February 22.  A Stampin' Up! staff member will give a short presentation for about 10 minutes and then take questions.  Space is limited on the call, first-come first-served.
If you would like to take advantage of this unique opportunity just to hear about Stampin' Up!, contact me at KSFontinelle@gmail.com and I will give you further information.  Also, you can find out about Stampin' Up! HERE.
Click on photo below for more information!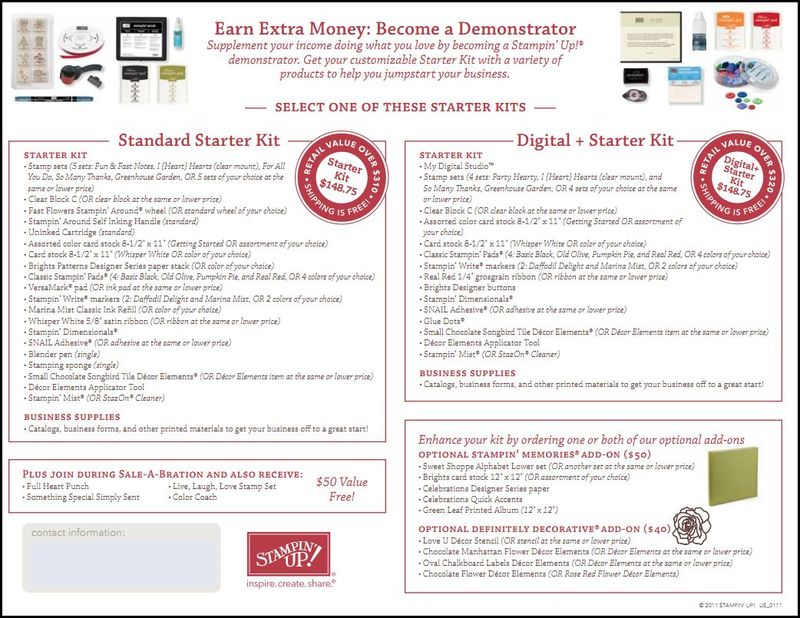 Be sure to contact me before Tuesday, Feb. 22 so I can give you the details on making this call.  There is no obligation and you won't be asked to sign up on the call.  You can just listen in and contact me later to ask questions or find out how to sign up!