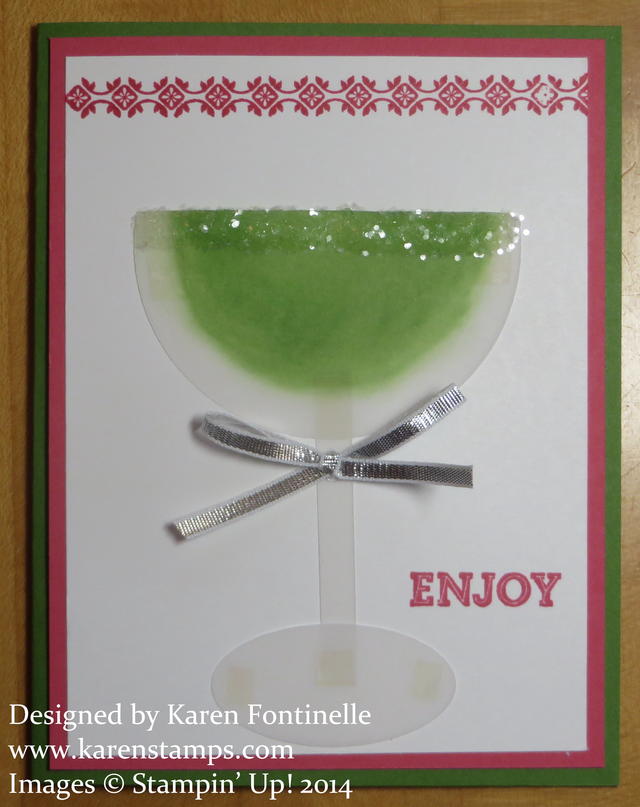 I guess there is a day for everything and today is National Margarita Day! Move over George Washington! (It's actually his birthday today, February 22.) I thought it would be fun to try making a margarita card using our Stampin' Up! Vellum Card Stock. Just cut a circle for the glass, a thin stem from the scrap and punch a small Oval.  Cut off a portion of the top of the circle to make the shape of glass you want. There's no good way to hide your adhesive under vellum so do the best you can. I used Sticky Strip.
To make the margarita glass, sponge on some green ink (I used Gumball Green) on the underside of the vellum. Make it as light or dark as you like. I left a border to look like the glass. For the "salt" on the margarita, I spread a line of Crystal Effects and sprinkled on some retired Stampin' Up! Chunky Essentials Glitter that I had. You could also use Sticky Strip.
The border at the top is stamped with the Mosaic Madness Stamp Set.  The word "Enjoy" is from the carryover stamp set  Oh, Goodie! To jazz things up a bit I stuck on a cute little bow from the Silver 1/8″ Ribbon.
Now if you are not into margaritas, you can use the same technique to make a regular shaped glass of lemonade or punch or anything you want. Just color the backside of the glass with whatever color drink you want to portray – or even layers of different colors for a fancy drink!
You can shop at my Stampin' Up! Online Store for any supplies you need!
Enjoy National Margarita Day by making a Margarita card and perhaps visiting your favorite Mexican restaurant for dinner tonight! I know my mouth is watering for some fajitas and enchiladas!
Use the buttons below if you'd like to share this Margarita with your friends!