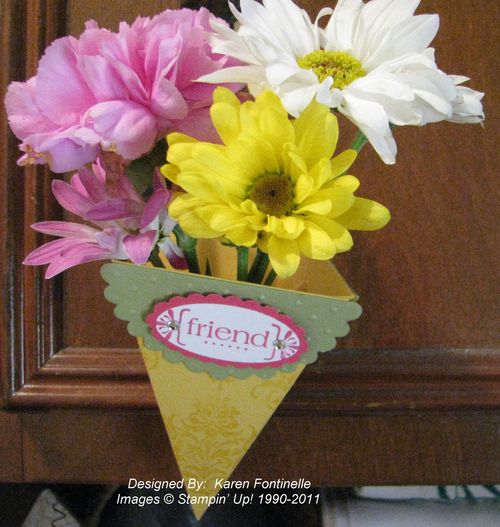 Today is May Day, although I've never really seen it celebrated! Supposedly you hang a small basket of flowers or gifts on your neighbor's door without being seen.  Now wouldn't that really be a nice thing to find on your door?!  I think this tradition has been transformed into a fun Halloween prank where you "Boo" somebody with a paper ghost and some Halloween treats.  Some say on May Day that if you get caught placing the May Day basket, you get a kiss!  I read that in London children get pennies for bringing flowers house to house and then those pennies are thrown into a wishing well and donated to charity.  In France people try to touch cows parading with flowers on their tails, which is supposed to bring good luck.  Whether or not these are real traditions, I think they all sound like nice celebrations of spring.
Here's my May Day basket, made with the Stampin' Up! Petal Cone die #121810.  It is being carried over from the Occasions Mini, which means we can still order it!
Click HERE to see which items are being carried over.
If you like this project and would like to make it yourself, send me an email and I'll get you started!