I hope you have a fun Halloween planned with your family!  I expect to have some trick-or-treaters at my door tonight and I always enjoy giving out the candy!  The little neighborhood carnival is just down the street, so we always do get a lot of kids at our house as they come and go from the carnival.
Here are a couple of treat bags I made for my "big" kids so easily out of the Mini Lunch Sacks #121031 in the Holiday Mini Catalog.  Just a few scraps of Wicked Fun Designer Series Paper #117400, some card stock and maybe a little stamping from Wicked Cool.  Use your punches!  Really fun!  I think I might make a couple more bags today for some special trick-or-treaters!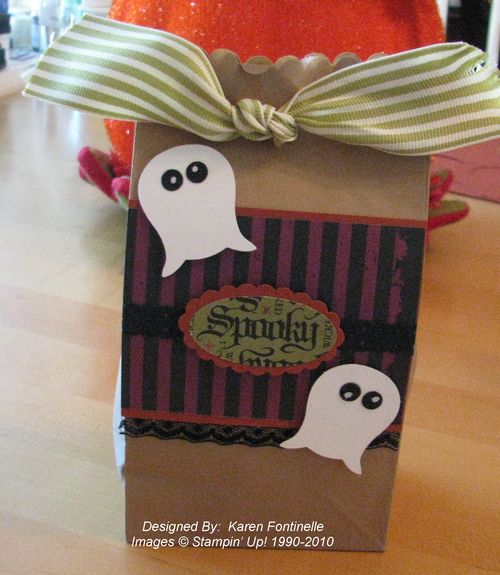 Did you know you can make ghosts out of the Owl Punch #118074?
Just punch out the owl in white, cut off his feet, and turn him upside down! Put some eyes on him and you've got a ghost!  Love it!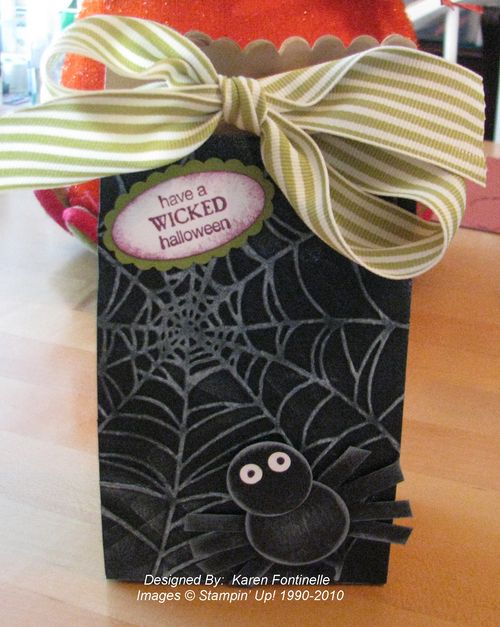 I finally caught up with myself and found out I DID order the Spider Web Textured Impressions Embossing Folder #120889!  Just run this through your Big Shot and you have a great spider web!  To make it show up, I just rubbed my Craft White Ink Pad lightly over the spider web.  On another one I sprinkled on some Iridescent Ice Embossing Powder #101930 and set it with my Heat Tool #100005!  Nice and sparkly!
Have a Happy Halloween!!!