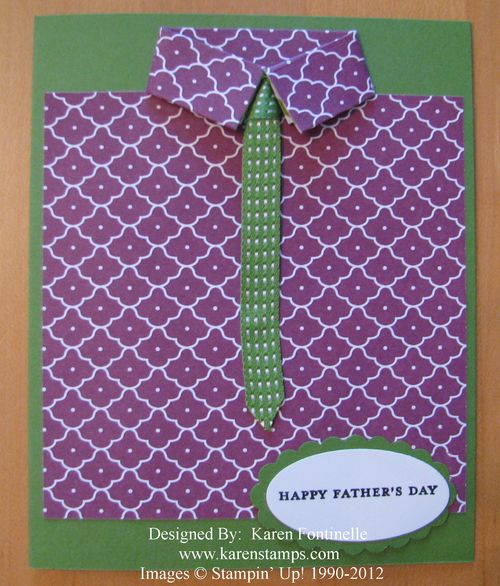 There are a lot of these Father's Day card ideas out there with the shirt and tie.  Usually the tie, and sometimes the shirt, is an origami technique, but I wanted something easier for a handmade Father's Day card idea.
For the shirt, I started with a piece of designer paper (this one is Summer Smooches #125409 from Stampin' Up! cut 4" x 5 7/8". At the top score at 5/8" and again at 1 1/4"….that is, if you want the collar to match the shirt (so that your designer paper is folded over twice). Otherwise, just score at 5/8" if you want the other side of the paper to show for the collar.  Either is great!  Where you want the collar to fold in, cut in at the sides one inch. That gives you the collar separated from the shirt so you can fold that much in toward the center.  Find the center of your paper (2") and fold those top tips to that mark making the collar. Use Stampin' Dimensionals #104430 under the collar edges to hold it down.  
Before glueing down the collar, make the necktie.  I just used a piece of the new 3/8" Stitched Satin Ribbon in Gumball Green #126848 (p. 172), tied a little knot at the top and snipped off the bottom to make a point.  Then I stuck it down with a Mini Glue Dot at the top and one lower down.  You could also use a little mini brad for a "tie tac". After you have the tie in place you can stick down the collar edges.
Here is what the necktie looks like: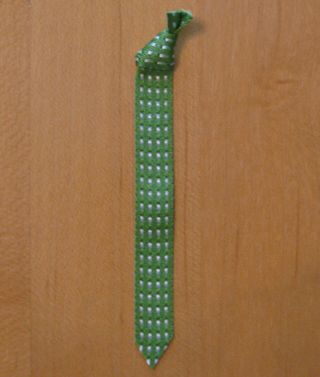 Adhere the Father's Day shirt to a card base and add a greeting and you are done!  So cute and relatively easy!