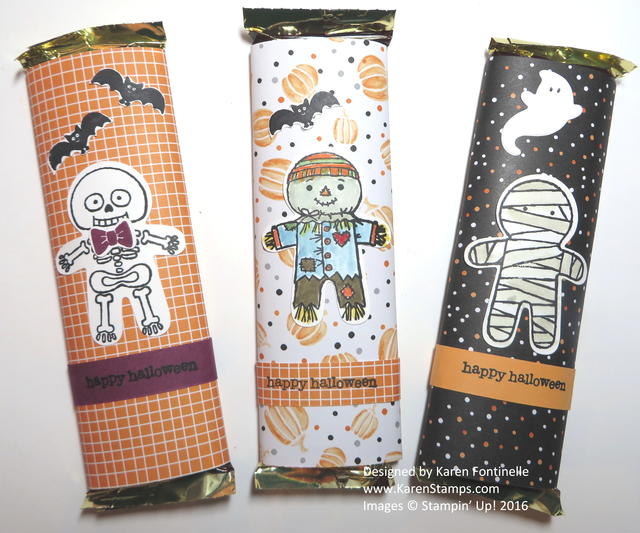 The other day I posted the first candy bar I made, but it was so fun I had to make some more Halloween Night Candy Bars with the Halloween Night Specialty Designer Series Paper and the Cookie Cutter Halloween Stamp Set plus Cookie Cutter Builder Punch.  The greeting is from Teeny Tiny Wishes.
Depending on the kind and size of candy bar you use, just wrap designer paper, or even card stock around the candy bar and secure with strong adhesive like Tear & Tape.  Stamp the Cookie Cutter characters, color in and punch out. Add a few other stamps for embellishments or whatever else you come up with!  So fun and easy!
Are You On My Mailing List?
This week my September newsletter will come out with several stamping projects and all the latest Stampin' Up! news!  PLUS it won't be long until I begin my 12 Weeks of Christmas email with a new idea and full directions each week for cards, bags and tags, and gifts. This is a special gift for my newsletter subscribers so be sure you are one of them!  Sign up in the box in the upper right of my blog!
Last Day for Stampin' Up! Special Offers!
Just like the old Weekly Deals, here are the current Special Offers which have been out since last Tuesday and will end tonight. Tomorrow there will be new ones and one more week of special offers the following week.  Add them to your order!  If you like the Enamel Shapes or haven't tried them yet, this is your chance to get them at a 25% discount – or a punch, ribbon or embossing folder!