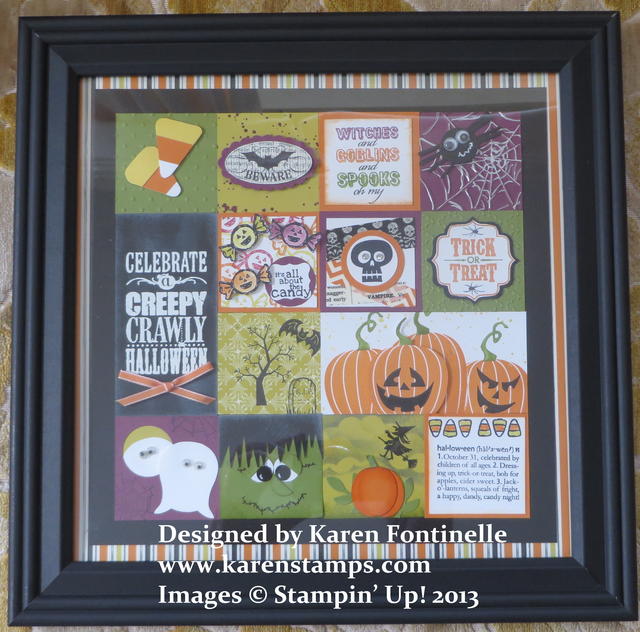 We got back home Saturday from a wonderful fall vacation to Michigan! There has been no sign of fall here in Houston, Texas except for the date on the calendar, so to see REAL fall, with colored leaves beyond expectations, cooler (okay, sometimes COLD!) weather, that overcast fall look was just a wonderful change! The people up there decorate for fall, not just Halloween, because it IS fall there!  I saw so many pumpkin stands and corn shucks and fall flowers plus Halloween decorations. I loved it all!
The Halloween framed art above was a gift for my friend we were visiting. I happened to have a frame with a square opening of 10″ x 10″  so I was able to use 2″ squares for the "art". As you can see, I made two elements 2″ x 4″ to fit into the design.  Some of the stamps were retired ( I couldn't resist going through some of my "old" Halloween stamp sets) and some designs were ideas I got online or at least got me started on my own ideas.  It was fun to make and an easy project for anyone to make.  Make it as small or large as you want.  Check to see what picture frames you already have in your stash and start there.  You could do something with four squares or 16!  Whatever you like! There's a glare because I did put the glass in the frame but you can also omit the glass, especially if you want to put a lot of 3D layers on your art.
I'll tell you more about my trip when I get all the photos sorted out. The trees were unbelievably gorgeous – if they weren't at "peak" color, I don't know how they could be any more beautiful. A lot of my photos were shot through the car windshield or passenger window, sometimes through the windshield wiper and raindrops!  Here's a sneak peek of some trees along the highway when we first arrived!  I just held my camera in my hands at all times as we were driving!