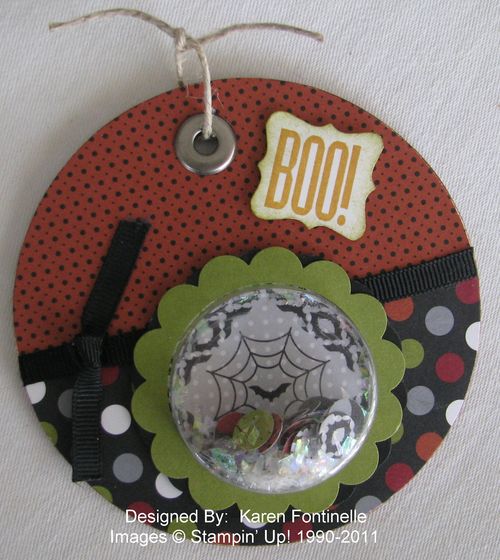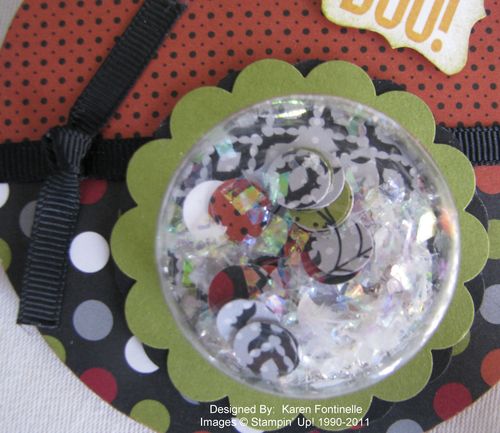 I told you I had fun making the Halloween ornament the other day out of the coaster and that I would make more!  Here is another one I made today with a coaster covered with Frightful Sight Designer Series Paper.  I added a Circle Treat Cup to the front, covering a piece of the designer paper with a spider web on it, and filled with my own handmade confetti, glitter and the new Mica Flakes.
Here's how I made my Halloween confetti.  I simply punched pieces from the Frightful Sight Designer Series Paper with the little circle punch in the Itty Bitty Punch Pack (you get three Itty Bitty punches!). If you look at the designer paper, you'll see some pages are filled with little ghosts, spiders, bats, etc. and they just about fit in the itty bitty punch.  I also just punched some colors from the paper, added the new Mica Flakes and some Silver Glass Glitter.
Have fun making some Halloween decorations for your family!  If you need some supplies, Stampin' Up! has plenty of them!  Just click HERE to do Online Ordering or email me at Karen@KarenStamps.com.