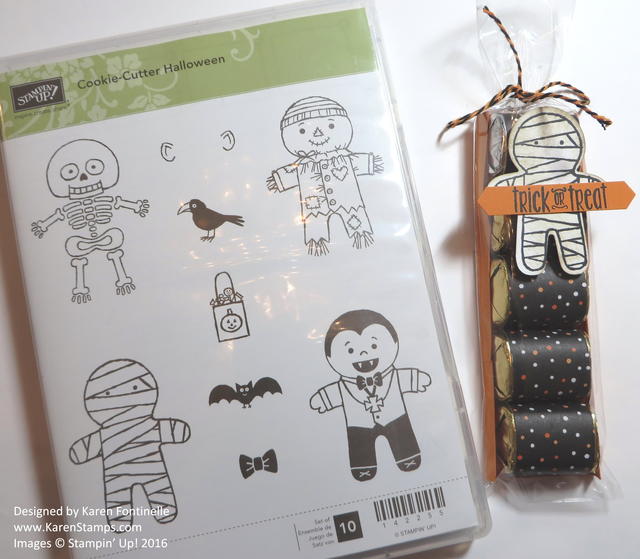 These Halloween Chocolate Candy Treat Bags are fun and easy to make, if you need a simple treat to make.  Actually you can make these candy treats for ANY occasion – just cover a chocolate nugget candy with designer paper! These narrow cello bags from Stampin' Up! are fun to use, but if you don't have them, just put the candies in any little bag, tie with a ribbon, and make a tag and you have a  cute little gift!
The Cookie Cutter Halloween Stamp Set gives you so many choices with the characters you can stamp. Don't forget, you can still use the scarecrow through the fall and for Thanksgiving so don't put away this stamp set after October 31! And if you are thinking ahead to Christmas (surely you are!), get the Cookie Cutter Christmas Stamp Set. You will want the Cookie Cutter Builder Punch to go with it, so you might as well get the Bundle and save 10%.
To make the cute candies, I used the Halloween Night Specialty Designer Series Paper to cover the chocolate nuggets.  You just need a 1″ x 3″ strip of paper.  I adhered them on the back of the candy with a Mini Glue Dot. The adhesive is only on the paper, not touching the candy.  I have made tons of these candies through the years for gifts or treats. For Christmas, of course, use Christmas colors or Christmas paper. For birthdays, use some other design. Whatever! And remember, some of the patterns in the Halloween Night paper can be used beyond Halloween, so keep it out and handy after Halloween!
These narrow cello bags are the 2″ x 8″ Cellophane Bags. They are only $3 for 50 bags! Remember, if you want to stamp on cello bags, use Stazon Ink. Check out all the different sizes and kinds of cello bags Stampin' Up! offers because they are so handy to have on hand!
To make a little tray to hold the candies in the bag, cut a piece of cardstock 2″ x 5″.  Score 1/4″ along each long side to make the tray.  This will fit inside the bag. Cut a piece of ribbon or twine about 12″ long to tie the bag. Embellish as desired! Make a bunch and put them together assembly line style.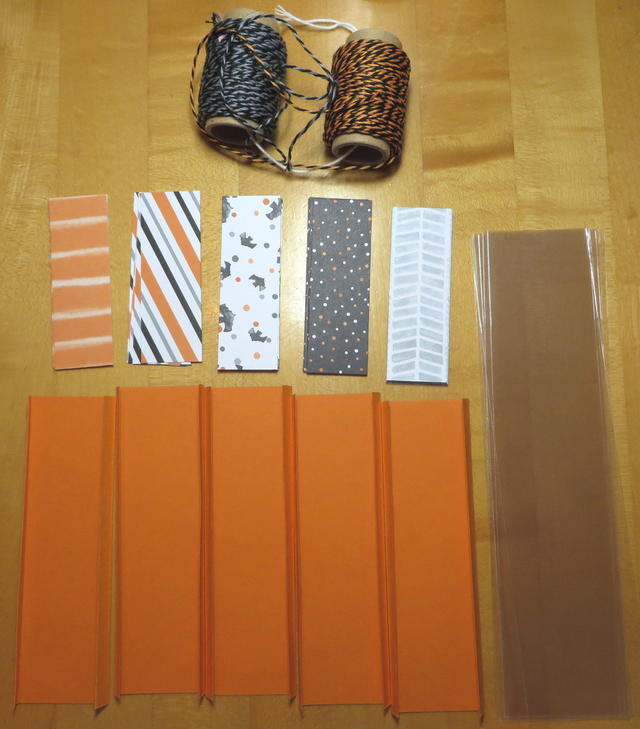 Think ahead to Thanksgiving or Christmas or New Years and think about making some chocolate candy treat bags like this one!