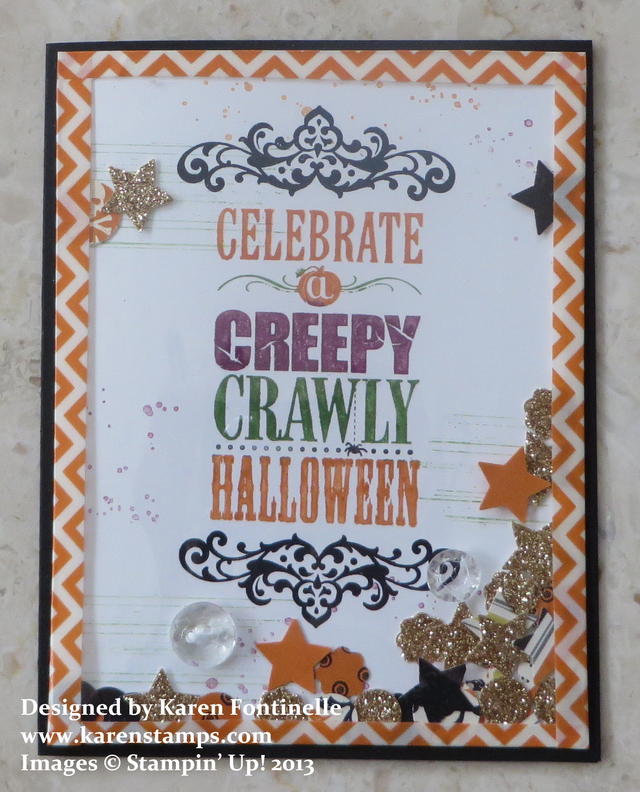 I thought this week I would post a new Halloween project everyday but then I went on vacation and did not have wifi!!  Worse than that was that I thought I had a new plan that would give me wifi but it did not work!  Don't try to add a new technology on a day before you are leaving for vacation, especially without trying it out first!  But now I do have wifi, so here is a Halloween card I LOVE! It's been around on the internet and I certainly did not come up with the original idea.
Cut a window sheet the same size as your top card layer.  Stamp that top card layer however you like.  Use Washi Tape on three sides of the window sheets, half of the tape on the front window sheet and half wrapped around to the page.  ONLY DO THREE SIDES!  Then punch or stamp the "confetti" you want inside the card.  First insert a couple of the Vintage Faceted Designer Buttons in between the window sheet and card layer.  This will separate the two layers so that the confetti can move around a little. Then insert all the confetti pieces you have made. Once you have that all how you like it, apply the last pieces of washi tape to the open side.  Then adhere that whole packet to the card base.  Shake it around and try it out!  What a fun card to send somebody!
For this Halloween card, I stamped the greeting with the Halloween Bash Stamp Set, coloring with different Stampin' Write Markers. The Washi Tape is Witches Brew Designer Tape.