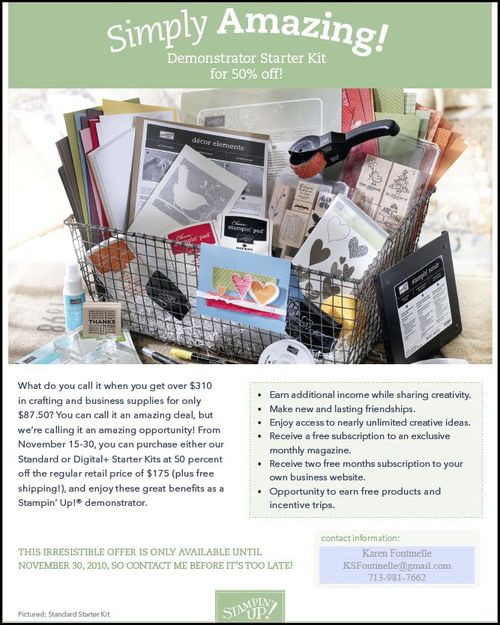 Hold on to your inkpads!!  Can you believe this offer from Stampin' Up!??  It's the simply amazing offer never made before…..the Stampin' Up! Starter Kit at half-price!  Start your own business for only $87.50!! The minute you are signed up, especially if you do it through my online site, you are IN BUSINESS!  Not only do you get the perks for yourself I know you will enjoy, but you will actually be in business for yourself and can take that business to whatever level you want.  And who couldn't use an extra paycheck these days?!
The promotion runs from Nov. 15 through Nov. 30.
Both the Standard Starter Kit and the Digital+ Kit are available at 50 percent off the regular kit. These are full starter kits, not mini or reduced-content kits.

Recruits can still add the Stampin' Memories or Digital+ Add-On and will pay the regular add-on price.

Recruits who join during the Simply Amazing Recruiting Promotion are still eligible for any programs available to a new recruit. This includes but is not limited to the extra 10 percent Instant Income offer, Stampin' Start, the opportunity to purchase a Business Booster Kit, and a free two-month Demonstrator Business Web Services (DBWS) subscription.

The kit can be customized.

Free shipping on your kit!

Be ready to get in on the demonstrator preorder for the Occasions Mini Catalog and Sale-A-Bration, plus be ready as a demonstrator to earn special benefits during Sale-A-Bration!

Plenty of training on the Stampin' Up! website for demos and plenty of sample projects so no creativity required!
This offer starts November 15th!  Wait until that date to sign up to get the half-price offer, but don't delay after that as it only lasts for two weeks!
To help you think about this amazing offer, click here for lots more information on becoming a Stampin' Up! demonstrator!  And I am happy to answer any questions as well.  Email me at KSFontinelle@gmail.com.
When you decide to join, if you want to do it online, just click HERE and then click the "Join Now" button on the left.  Once you are signed up, you will receive your Demo number and you will be good to go!