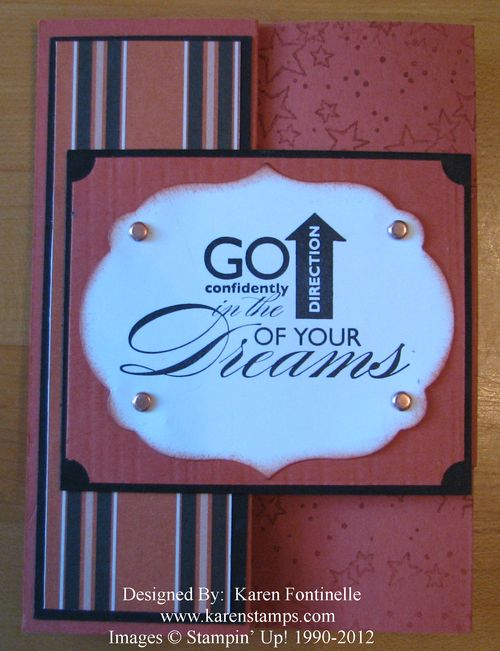 When your son is graduating from college and you make cards, you want to make an extra-special graduation card for him!  After thinking about many different designs, I decided on this tri-shutter card.  I love how it opens up yet is simple to make. This card is a combination of current and retired stamps, wheel, paper, and embellishments…even paper from the school bookstore scrapbook package. Oh, and let's not forget using My Digital Studio to print some images for the card!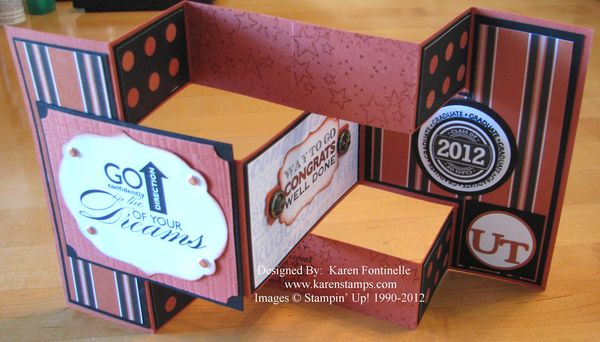 For the basic card, cut a piece of card stock 5 1/2" x 12". With your Simply Scored Scoring Tool, score the card stock at 2", 4", 8" and 10"with the card stock horizontal (12") in your scoring tool.
Using your Stampin' Up! Paper Cutter (retiring) or a hobby blade, with your card stock long ways (vertical), measure in 1 1/2" and cut a slit between the 2" and 10" score marks.  Do this also on the other side.
Fold as you see in the photo (a little tricky to get it going but it will work!) and then decorate with designer paper, stamping and embellishments to your heart's content!