Here's another graduation card (or for any occasion) made following almost the same idea as THIS card in a previous post.  This time I wanted a money holder.  This card is not as wide as it should be to hold the money, but in this case I wanted it to fit in a certain envelope….so I'll just have to fold the money in half!  The card front measures 3" x 6" with a fold up pocket on the inside of 2".  Therefore, you need to cut your cardstock at 8" x 6", scoring at 2" and 5" so you can fold the 2" pocket up inside the card and then the 3" top folds down.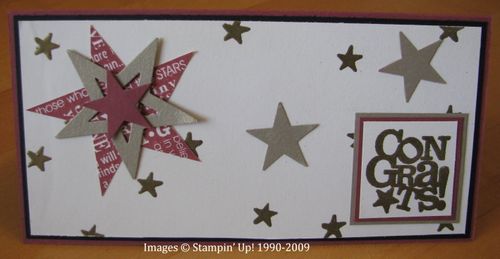 The star actually spins on the front!  I found the design by Dawn while browsing on Splitcoast here.  It adds a fun little element! 
If you need the star punches to make a spinning star, just place your order here on my website.