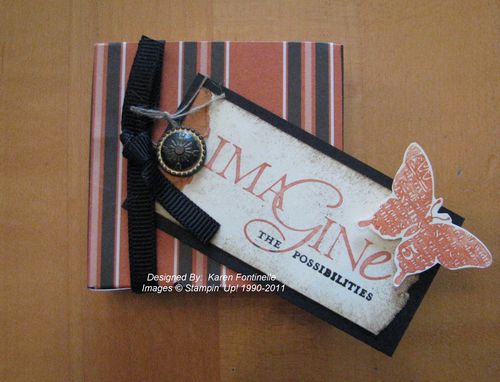 You're probably going to need a graduation gift box idea and a tag. This is an easy one to make if you have the Big Shot Die-Cutting Machine #113439 and the Bitty Box & Envelope Die #115967.  You can use any card stock or paper, of course, but if you need a college graduation gift, maybe you would have access to the scrapbook packet at the campus bookstore and you can make a box in the school's colors! Just cut out the box with the die, assemble and decorate!  There are other Big Shot dies that make nice gift packaging as well.
For the graduation gift tag, I've found that the stamp set Word Play on page 147 of the Stampin' Up! Idea Book & Catalog (available in wood- or clear-mount) has great expressions to use for graduation.  Use your markers to color the stamp different colors if you like to get a multi-colored image.  I sponged the edges, tore the end, added a folded over torn piece and Antique Brad, plus stamped a small butterfly from the SAB set "Bliss".  If you need a larger gift bag or box, make a nice tag that will become a graduation keepsake.
If you don't already own the Big Shot, go to my store now and look it over! You need one!  Let me know if you have any questions!