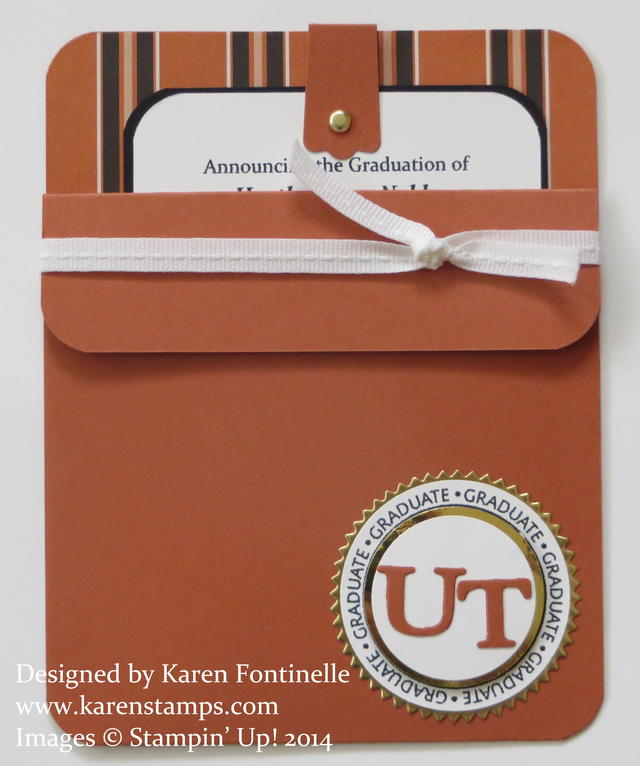 If you need some graduation announcements, this pocket card makes a nice one. I made a similar announcement for my son a few years ago that you can see in THIS POST. This uses a half sheet of card stock "the long way", so 4 1/2″ x 11. Then it is folded in half and the  little flap in front folded down. I made an insert with all the commencement information, printed on my computer. I used some retired product on this card, some new, and some using My Digital Studio as I didn't have the exact stamp I needed.You can probably purchase a scrapbooking pack of paper and embellishments in the college bookstore if you want the official college colors. These pocket cards work great for other kinds of invitations, gift card holder, just cards in general.
The colleges and schools often offer a gigantic box of announcements and some families just aren't going to send out 50 or whatever the quantity is.  So sometimes it makes sense to just make a few of your own and personalize the occasion!
Last night I remembered a little too late that the University of Texas at Austin was having a live webcast of their all-school graduation ceremony. I was interested in hearing the speaker and seeing the fireworks at the end! We have attended three of these ceremonies and they were all very nice, but require parking where you can get out easily afterwards, arriving early to get a seat, sitting outside in some amount of heat, eating early so you don't starve, and mostly sitting, sitting, sitting, and waiting. So I was glad we didn't have to attend this ceremony this year, but I did catch the end of the webcast. Lots of happy faces in that crowd finalizing their college days and degrees! And I was just in time to see the fireworks over the  UT Tower!