Today I came across the Valentine card my husband gave me and remembered that I always wanted to use it as inspiration for a stamped card.  Here is the Valentine: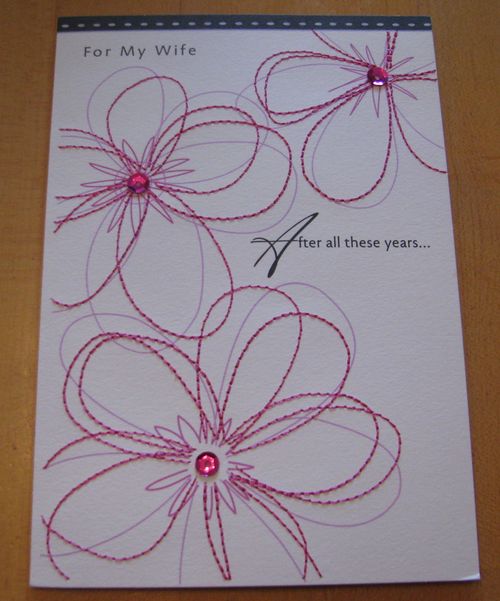 Everyone lately has been playing with this gorgeous stamp set, Fifth Avenue Floral, and the coordinating Textured Impressions Die for the Big Shot.  Although it isn't how I originally thought I would "copy" the valentine card, this is what I came up with: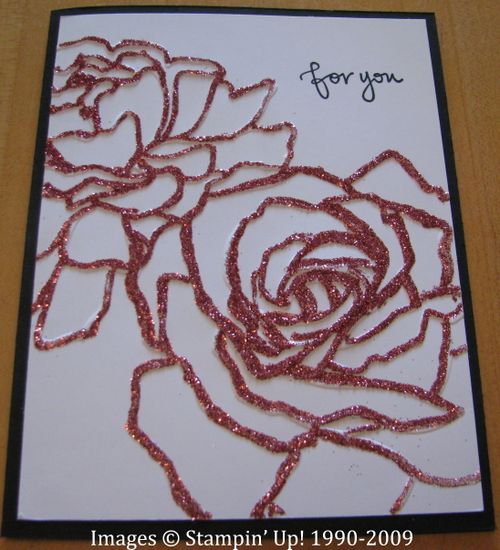 I think it was the "glitteriness" of the sequins on the card that made me think about using the new "Fine Supernova Stampin' Glitter" on page 180 of the Idea Book & Catalog.  I first embossed with the "Manhattan Flower Textured Impressions Die" on page 202 (which is pretty enough by itself on any paper!) and then used the "2-Way Glue Pen" to trace all the lines of the embossed flowers (okay, that takes a little patience and you can't do it perfectly, but you can do it!)  I sprinkled on the Pink Supernova Glitter, shook it off, and then went back in to touch up a few missed spots.  This glitter is very fine, so it is a little difficult to get it completely off your paper where you don't want it.  I found a small watercolor brush to work pretty well.  As you can see, there are still some specks of glitter.  But I think after awhile it will probably drop off.  The sentiment is from "Great Friend" in the Occasions Mini.
Here is the inside of the card since the card base is Basic Black: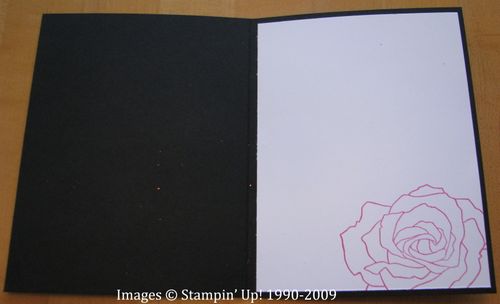 I just stamped the flower with Pink Passion ink.
The "Manhattan Flower" die was not available until March in the new Idea Book & Catalog, so you may have overlooked it.  You will really want to put it on your next order because it is a beauty!