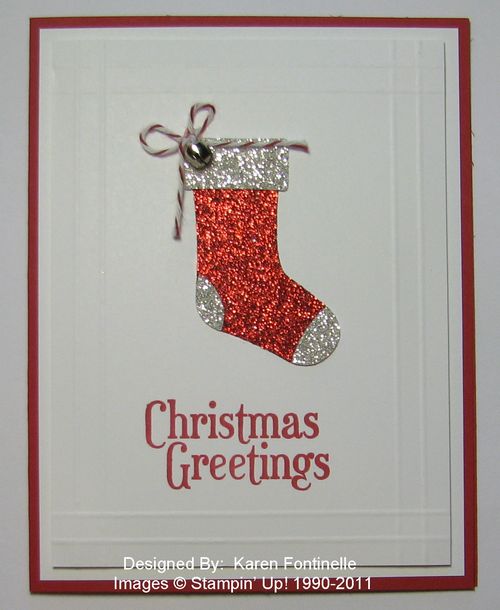 Both the Red (#121790) and the Silver Glimmer Paper (#124005) by Stampin' Up! are so beautiful to use!  A person might even want to hoard this paper, but really, isn't it better to use and let others enjoy it also??! The glimmer and shimmer of the paper, especially the silver, is so beautiful in person one could just look at the whole sheet all day playing with it in the light!
Here is a very simple, easy, but elegant card using just a little bit of the Glimmer Paper.  I love the tone on tone layers, and I used my Simply Scored Tool (#122334) to make the borders on the Whisper White top layer.  Love the Mini Jingle Bells (#124116) and the Cherry Cobbler/White Baker's Twine! (#123125).  The greeting is from the stamp set Grateful Greetings (#116511).
And today is Cyber Monday, perhaps the busiest online shopping day as people go back to work or shop from home on their computers!  Stampin' Up! is already offering their Online Extravaganza (check it out HERE!) through the end of the month!  If you haven't checked out the discounts, be sure to do it today because I am offering a free tutorial to make an easy Christmas mini album with a $25 Stampin' Up! order placed through me or my Stampin' Up! website only today, until midnight! Of course you can order anything you want, not just the Online Extravaganza merchandise.  You have plenty of time to order your supplies for Christmas cards and projects and still have time to make them!
Check out my Free Tutorial offer in my post here.
And don't forget the special Hostess Promotion going on until Dec. 15th! Hostesses will receive an additional $35 in free Stampin' Up! products when they hold a workshop totaling $350 or more (excluding tax and shipping)! This is in addition to all the other benefits they already get as a Stampin' Up! hostess. Or place your own very large order!  You know you want to!!
So lots going on at Stampin' Up! Let me know if you have any questions, want anything, need anything!  Hope you all had a wonderful Thanksgiving…..and now it's on to Christmas!!