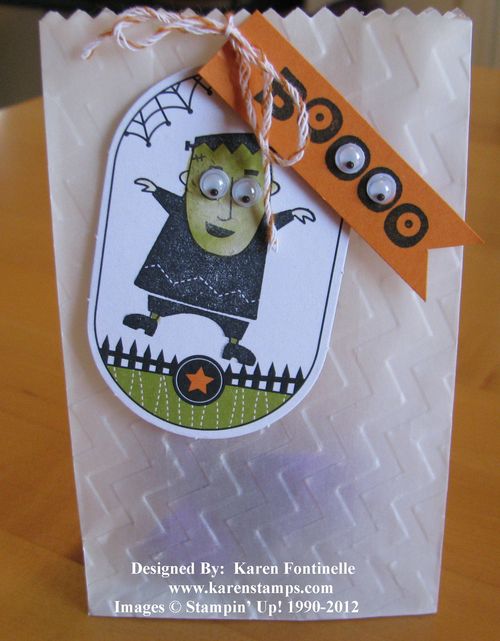 For a good time, make some Ghoulish Googlies Embossed Halloween Treat Bags!! You realize that August is flying by and fall will be upon us.  Maybe not temperature-wise here in Houston, but in our minds! As we start putting out our fall decor for our homes and start wearing fall-colored clothing, we will know Halloween is not far behind! Whether you are expecting trick-or-treaters at your door, or have a class party to plan or want some easy party favors, these Halloween treat bags will be fun to make. Now's the time to just start thinking about our fall and holiday projects before time gets too short.
For an extra touch and texture, run the bag through the Big Shot Die-Cutting Machine inside an embossing folder! Just stick the bag inside the folder! Nothing tricky about it. The Spider Web Folder #120889 is of course a great one for Halloween! But the new Chevron Folder #127749 or Argyle Folder #127750 or Houndstooth Folder #123134 are also interesting ones! For the Chevron one, I purposely put the bag in crooked to make it look a little creepier!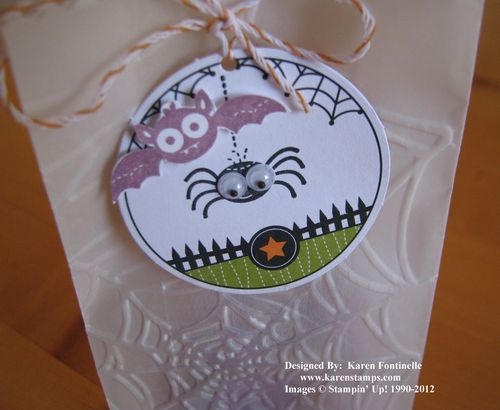 I've already blogged about what a deal the Ghoulish Googlies Bundle is if you want the Ghoulish Googlies Designer Kit and the Googly Ghouls stamp set (and you do!). And you won't be limited to just making treat bags either.  See my post HERE with another cute Halloween bag using a Googly Ghoul! I used these products in two stamp camps and the ladies loved them!
Shop Stampin' Up! Online at your convenience! Get your Googlie Ghouls HERE!