Tax Free Holiday in Texas this weekend!  Aug. 21-23!  That's Friday, Sat. and Sunday!  I think school supplies are new on the list this year as tax free items in Texas so get what you need!  Think ahead to all of those school projects you will encounter, usually at 10:00 pm the night before they are due!  Wouldn't it be great to have supplies on hand to make life easier?  I know it has worked for my kids!  I always had a shelf in my closet of a stash of school supplies so we never ran out of notebooks or adhesives or pens or whatever!  Sometimes other moms would say they thought about calling me to see if I had extra of something their kids needed because they knew I had a stash!
And if not school projects, think about  Girl Scout and Cub Scout projects.  My family always rolled their eyes at all of Mom's crafting, but as soon as they needed something for the Pinewood Derby car or whatever, it was always, "You wouldn't happen to have……..?" and I usually did!
From Stampin' Up! "The state of Texas is having a sales tax holiday from August 21 – 23. Because school supply items are included in this sales tax holiday, the below list of items will be tax free during the holiday period. Please note that you must place your order with Stampin' Up! during the tax holiday period in order to receive these items tax free."
Uni-ball Signo gel pen, 105021, $3.95

Basic Black Stampin' Write journaler, 105394, $3.25

Stampin' Write markers, various, $3.25

Watercolor Pencils, 101879, $19.95

Watercolor Wonder Crayons Bold Brights, 106695, $19.95

Watercolor Wonder Crayons Earth Elements, 106696, $19.95

Watercolor Wonder Crayons Rich Regals, 106698, $19.95

Watercolor Wonder Crayons Soft Subtles, 106697, $19.95

Watercolor Wonder Crayons Neutrals, 106746, $9.95

Stampin' Pastels, 105542, $24.95

Craft & Rubber scissors, 103179, $19.95

Paper snips, 103579, $9.95

Craft & Paper scissors, 108360, $29.95

Pencil sharpener, 100745, $4.95

Blender pens, 102845, $9.95

2-Way Glue Pen, 100425, $3.50

SNAIL adhesive, 104332, $6.95

SNAIL refill, 104331, $4.50

Mini Glue Dots, 103683, $4.95

Pop-Up Glue Dots, 104183, $3.95

Stampin' Dimensionals, 104430, $3.95

Anywhere Glue Stick, 104045, $3.95

Dotto, 103305, $12.95

Dotto refill, 100902, $6.50

Sticky Strip, 104294, $6.95

Tombow Adhesive, 110755, $3.95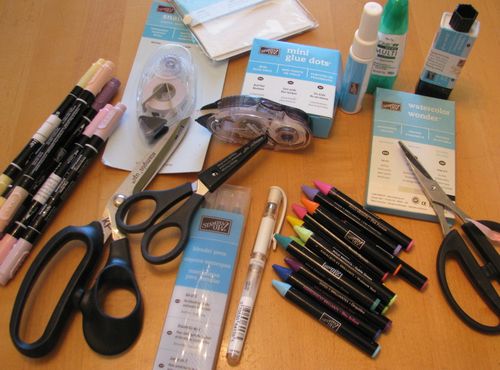 Contact me (KSFontinelle@gmail.com) with your Stampin' Up! order and put some of these tax free items on it if you are in Texas!