Someone asked me to make a picture frame as a gift for a friend with a new baby.  That idea evolved into making a scrapbook page that could be framed.  There are 12×12 scrapbook page frames available in the stores.  Here is the project; I should have photographed it before attaching the photos, so I just covered them with paper!
May is National Scrapbooking Month so think about what scrapbooking projects you could work on!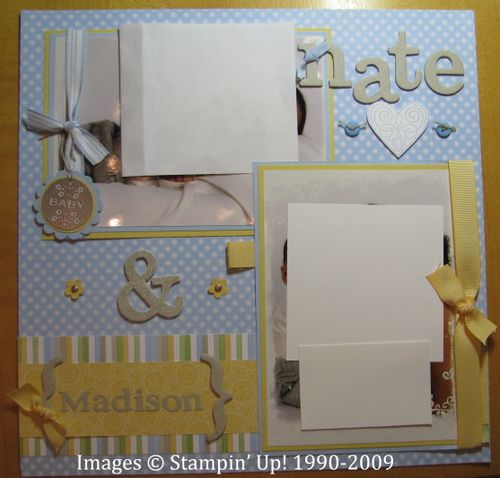 This page uses paper and ribbon from Sale-A-Bration, but you can substitute something current that suits your photo colors or theme.  The chipboard letters are from On Board Timeless Type.  You can find a selection of chipboard on pages 182-3 of the Idea Book & Catalog.  Really fun to work with!  I embossed the little "Baby" tag with silver.  The name "Madison" was spelled out with the die cut letters from the Big Shot die "Naturally Serif".  If you need any of these supplies to make a similar project, just go to my website and click on "Shop Now".