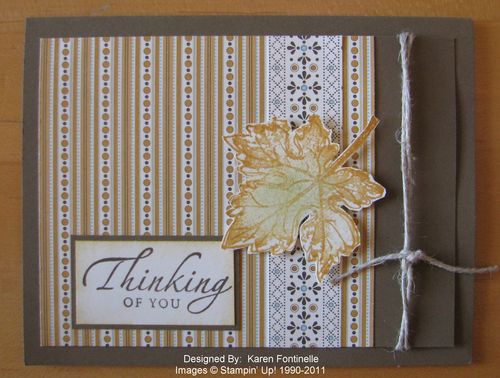 A leaf and these colors make us think of fall.  Amazingly, here in Houston we have actually been having weather that makes us think fall is possible, in the near future, here! I still can't believe that we went from 100+ degree days, for days on end, to very comfortable, cooler, dry days.  It's almost jacket-weather here early in the mornings!  
The only thing taking away from fully enjoying this beautiful weather is the knowledge that many people in Texas right now are suffering with all the wildfires. Today in Houston we can smell the smoke as a haze settled over the city from miles away due to our cooler morning temperatures. But that is nothing compared to what the people in counties north of Houston and farther west in Bastrop, Texas have to deal with having to evacuate their homes and not knowing if they have any home to go back to.  And many don't. If only the Northeast could send some of their rain down to Texas!  If anyone knows how to do a raindance, come to Texas!
This card is made with Soft Suede card stock and the beautiful, gorgeous Spice Cake Designer Series Paper.  The leaf is stamped with the Gently Falling stamp set.  My leaf actually didn't stamp properly…I forgot to check if I had inked up the center of the stamp well enough…but rather than do it over, I just sponged in some Pear Pizzazz ink in the center, which makes it look more realistic anyway!  See, there are no mistakes in stamping!  I actually "CASED" this card from the Holiday Mini on page 16, except made mine a little larger…and no time to find a button! Love that Spice Cake paper!!
To see all the products in the Stampin' Up! 2011 Holiday Mini Catalog, just click HERE.