So maybe he's not a "boy" anymore at age 23, but he will always be MY little boy!  Here's a card I made for Eric for his birthday.  Sometimes it is difficult to think of a card to make for any male.  Some stampers even do swaps for male cards just to get a selection of ideas.  I forget how it came to mind, but somehow I came up with the idea of making a card with a Yellowstone National Park theme after our memorable trip there this summer.  I had even tracked down the retired set "DD Pines" to use for those Yellowstone scrapbook pages I still plan to make! (we'll see!)  Long ago I had learned to make a diorama card, which actually folds down flat for mailing, and while they look impressive and are decorative, they are actually easy to make.  So here is the Diorama card I made with the retired DD Pines, plus the ever-useful "Lovely As a Tree" stamp set….talk about a great "male" set!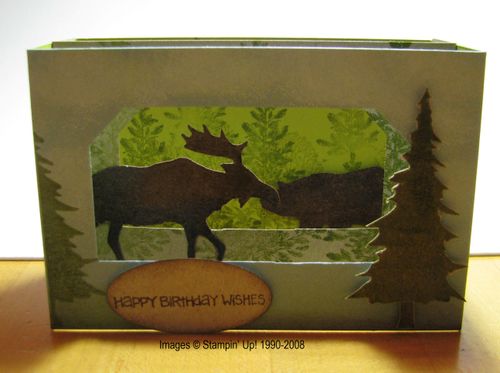 It's difficult to tell from this angle, but that is a moose in the foreground and a bear in the background!  You can see some of the "Lovely As a Tree" trees stamps on the inside layers of the card and the "Pines" tree stamped, embossed, and cut out adhered to the front with dimensionals.
Here is a view of the inside: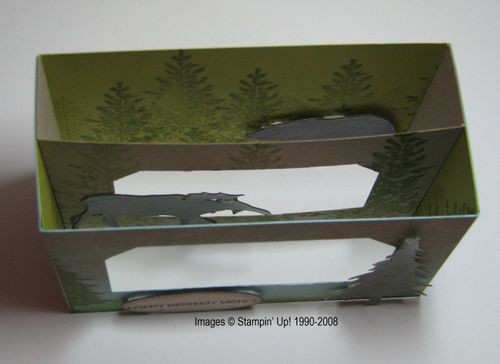 You can see how I cut out both the moose and the bear and attached them to the middle part and the back part with dimensionals.
And here is just another view of the front, maybe with better lighting.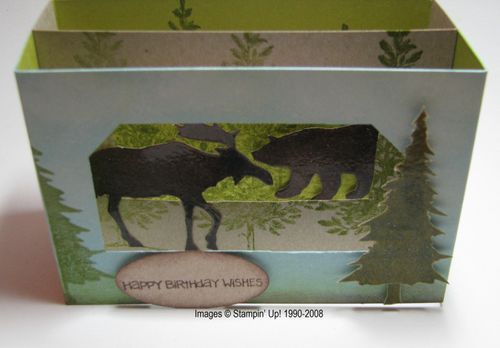 If you want directions on making this easy diorama card, which you can adapt to any theme, just email me!