Free products!  Who doesn't like to hear that phrase?!  Time is running out for the greatest Stampin' Up! promotion of the year….and the oldest! Stampin' Up! has been promoting Sale-a-Bration since the early days of the company (back then, called Sell-a-Bration), so you know it is a good thing!  But today and tomorrow are the last days.  Sale-a-Bration 2011 ends tomorrow, March 31.
With a purchase of just $50, you get to choose one free product from the Sale-a-Bration Mini Catalog.  With a $100 purchase, choose two free products…and so on!  No limit!
You may have seen some of the new SAB stamp sets in the mini, but did you know there are MANY stamp sets from the Stampin' Up! Idea Book & Catalog that are also available?  They are listed on page 11 in the Sale-A-Bration Mini.
Here's one of them…Elizabeth!  It's a single "a la carte" stamp.  I was asked to make some simple invitations for a school event thanking some volunteers.  This was one of the samples I made.  The Elizabeth stamp is very elegant!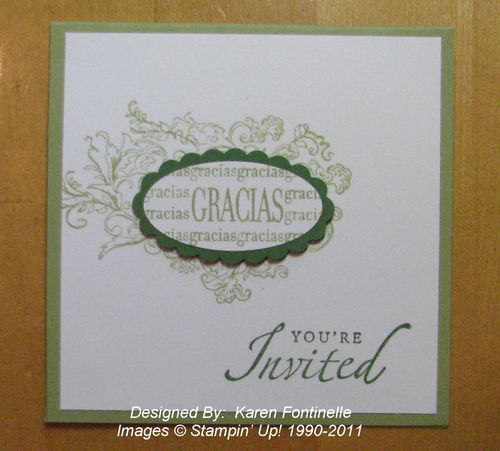 It's time to stock up on card stock, adhesives or those stamp sets you've always wanted because with your $50 purchase you will receive the Sale-A-Bration benefits.  Check it out HERE.  And then click on the "Shop Now" button on my website to place your order!  Have fun!