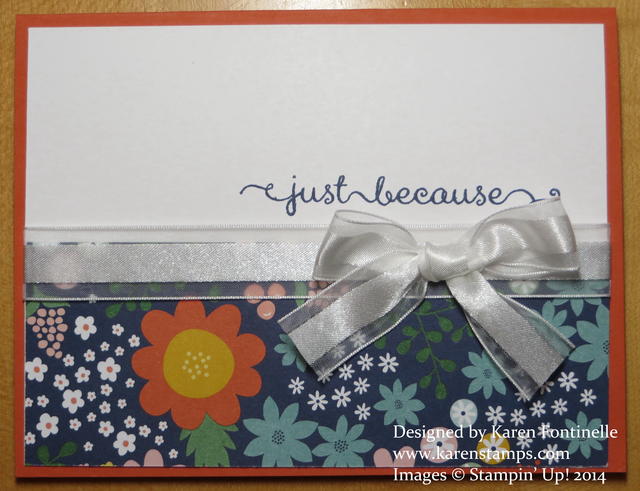 This is an easy basic card. If you need to make a card in a hurry or just don't have a creative idea in your head at the moment, make a card like this and everything will be right with the world! I used the Flower Pot Designer Series Paper in the new Stampin' Up! Catalog – either side of the sheet would have been fine on this card. I cut the designer paper about 2″ high and 5 1/4″ wide to fit on the Whisper White layer over Tangerine Tango (one of the coordinating colors for the Flower Pot DSP). Do this before adhering to the card base so you can adhere a piece of ribbon around the card (just the ends tuck under the sides of the card). I used my favorite ribbon, the Whisper White 5/8″ Organza Ribbon. I tied the bow separately and attached it with Mini Glue Dots. The greeting is stamped with Night of Navy ink using a stamp from A Dozen Thoughts. That's a stamp set worth owning with all the choices of greetings included.
This is an easy layout for a card for any occasion. Make a card base, with or without a layer on top, and adhere a strip of designer series paper either horizontally like I did on this card or vertically on one side. Stamp or punch out a greeting, maybe add some ribbon or a contrasting strip of card stock and you are set. This card is just as nice as anything more complicated! Or start with this design and MAKE it more complicated if you like!
Stampin' Up! is offering Buy 3 Get 1 Free Designer Series Paper this month, so it is a great time to get all your favorite packages or multiples to have on hand! Specialty papers and Paper Stacks are not included, but you can get all the brand new DSP right now!
Here is a close- up of the two sides of the Flower Pot Designer Series Paper I used on this easy card:
Visit my Stampin' Up! Online Store to check out all the choices of Designer Series Paper in the new Stampin' Up! Catalog.