Happy Mardi Gras!  Today is the big day, especially in New Orleans, although Mardi Gras isn't limited to only one day…..and not even to one city.  You've got to have beads! Here you see some of mine in a bowl, gathered from several years of Mardi Gras parties we attended.  The colors of Mardi Gras are purple (for justice), green (for faith), and yellow (for power).  Mardi Gras is French for "Fat Tuesday" which is the last day of eating rich foods before Ash Wednesday, when the fasting of Lent begins.  Here's a card I made for Mardi Gras using the colors of purple, green and yellow.  In the background you can see the little favor bag I made last year in this post.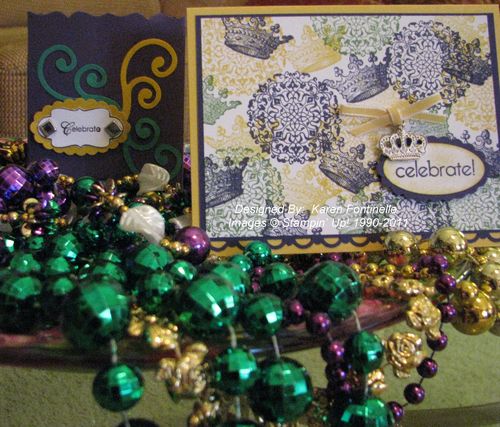 Mardi Gras 2011 Card
Stamps:  Artistic Etchings (p. 125), Something to Celebrate (Occasions Mini)
Ink:  Concord Crush, Daffodil Delight, Garden Green
Cardstock:  Daffodil Delight, Concord Crush, Whisper White
Accessories:  Scallop Trim Border Punch #118402, Scallop Oval Punch #119856, 1 3/4" x 7/8" Oval Large Punch #119855, Trinket Crowns #121891, 1/8" Taffeta Ribbon Daffodil Delight #119254
Just stamp the medallions and crown from Artistic Etchings randomly all over the Whisper White cardstock.  I just LOVED the stamped crowns! Then I also added a "real" crown from the Occasions Mini tied with a taffeta ribbon right above the oval greeting.
Laissez les bons temps rouler!