These pansies made from butterfly punches are all the rage right now and so easy to make!  I believe another demonstrator, Dawn Olchefske, may be the originator.  After I made my pansy, I die cut the Stampin' Up! Fancy Favor Box #115965 with my Big Shot, stamped with Elements of Style from the Summer Mini with Versamark on the box, and attached my pretty pansy.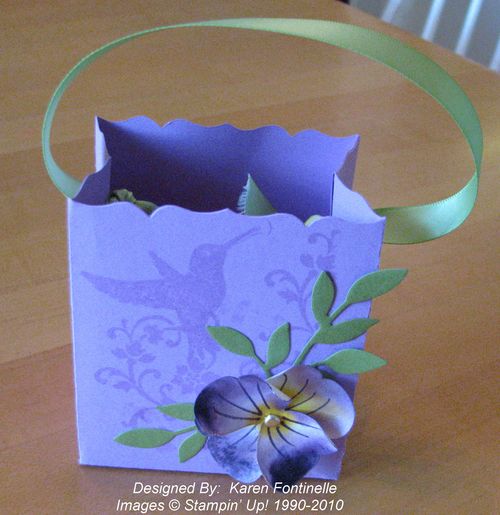 To make the pansy:
Use the Butterfly Punch #116629 to punch two butterflies from Shimmery White card stock #101910. (it works better with the water)

Place on a folded paper towel and spritz heavily with water.

Using your Aquapainter #103954 or small brush, pick up some ink and touch to the wet butterflies.  Use one or more colors.  The ink will spread with the water.

Let dry, draw little "whisker" type lines from the center of each.

Assemble the two butterflies at right angles with a center brad, curl the edges a bit with your fingers or a tool, and look at your beautiful pansy!

Be careful, because they are addicting and you will want to make more!
Who on earth would think you could make a pansy out of two butterflies?!  But that's how talented a lot of our Stampin' Up! Demonstrators are!