Extreme Elements #115181 is one of the stamp sets on the May Scrapbooking Month Promotion, which ends May 31.  Purchase this set, or one of many others, and get a free set of Designer Brads with each set!  I didn't think this stamp set was my style until I played with it!  Oh my gosh, I had the most fun using this set on this card!!  You can just do anything with this stamp set and it comes out looking great!  Since this card is for a  college boy, I thought something a little less traditional might be fine.  I also added a little Gold Glow Smooch Spritz #118770 for even more fun!  You can see it better in the close-up.  And my Big Shot came in handy to make the "OU" with the Naturally Serif Sizzlits Decorative Strip Die #113453.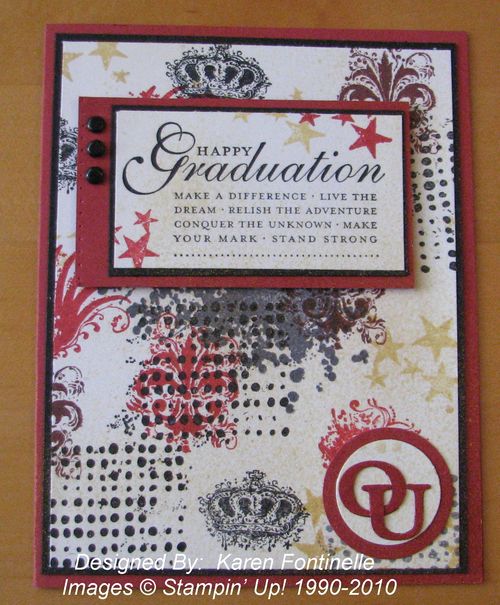 Look closely and you can see the Gold Glow Smooch Spritz!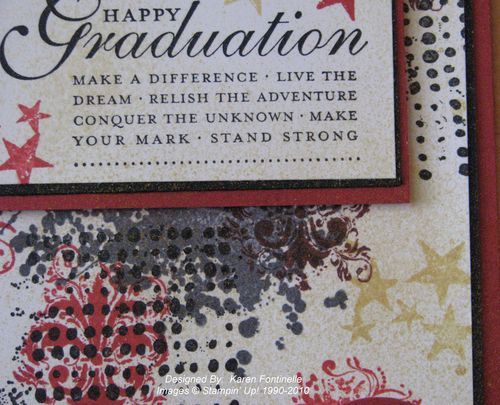 Order your Extreme Elements stamp set this week while you can get your choice of Designer Brads (page 179 of the Idea Book & Catalog) FREE!  And don't forget about the Happy Grad (#117006) single stamp on the last page of the Summer Mini Catalog !  It's such a useful stamp….and when graduation season is over, you could omit the "Happy Graduation" and use just the words below for various cards and projects!