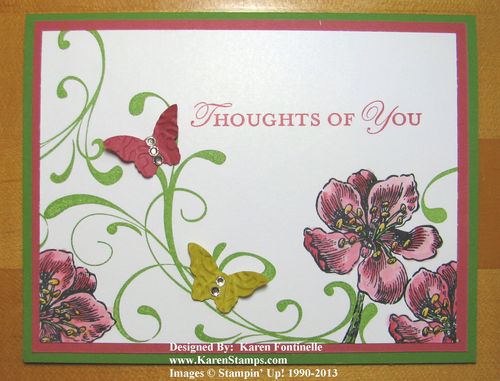 I don't know if these flowers in the stamp set Everything Eleanor are azaleas, but they at least resemble them.  I know there are blizzards and snow in many parts of the country, but my azaleas are blooming! In fact, the annual River Oaks Garden Club Azalea Trail will be coming up the weekend after next.
Everything Eleanor is a beautiful stamp set, yet I haven't used it a lot. I stamped the swirl with Gumball Green and stamped with flowers in Black Stazon so I could color them in. To color the flowers, I used my trusty Aqua Painter, which has water in the barrel, so it's like using a paint brush with its own supply of water!  Since the flower images already have a lot of highlight marks on them (the little black lines), I colored in those areas with Primrose Petals ink first. Then I added a little more water to the dab of ink in the lid of the ink pad to lighten it and colored in the rest of the petals with the same color. When you are using Whisper White card stock rather than watercolor paper, you do have to be careful not to add too much water or work the coloring too much because Whisper White won't hold up to it. But I can usually use it fine with just some light coloring.
The greeting is from Loving Thoughts.
Then I thought a butterfly or two might be in order. I punched out several colors plus one vellum one to see what I would like and Primrose Petals and Summer Starfruit won! I embossed both with the Lacy Brocade Embossing Folder, adhered them each with a Glue Dot, and added some Basic Rhinestone Jewels. The punch is the Bitty Butterfly Punch.
You could stamp a card like this and then add any kind of sentiment or greeting you wanted.
Stampin' Up! has all the supplies you need to make this card!  Please visit my Stampin' Up! Online Store here…..and don't forget about Sale-A-Bration!  With every $50 purchase in merchandise, you get to choose one free product from theSale-A-Bration brochure.  Good until March 22!  But don't wait until the last minute!
 .