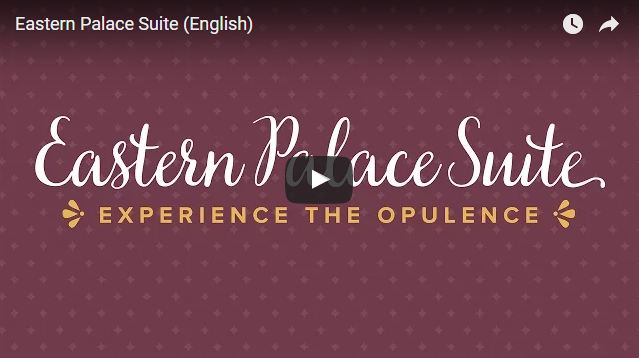 A week from today, May 1st, you can get your hands on the Eastern colors and designs coming in the new Eastern Palace Suite by Stampin' Up!  During the month of May, Stampin' Up! will be offering two different suites of products that all coordinate to make beautiful cards and projects.  Click the video above (it will go to YouTube) to see a group of people gathering together to stamp with the new Eastern Palace Suite!  New In Colors, new ink pads, stamps, and more!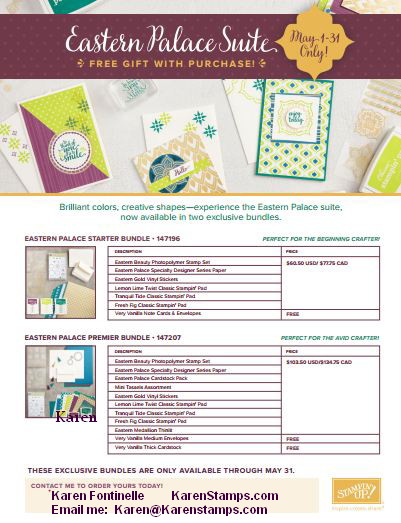 Click the flyer above to read the details!
The Eastern Medallion Thinlits themselves will help you make beautiful projects!
These Bundles will be available to customers May 1, 2017 through May 31, 2017.  This will ease your waiting for the new Stampin' Up! Catalog!
The Eastern Palace Starter Bundle is a little more for the beginning stamper and you receive the Very Vanilla Notecards and Envelopes FREE!
The Eastern Palace Premier Bundle has everything!   Besides the new stamp set, ink pads, designer paper, and stickers, it also comes with tassels and the Eastern Medallion Thinlits Dies. For a FREE gift, you will receive the brand new Very Vanilla Thick Cardstock and Envelopes.
Remember, these Bundles cannot be ordered until May 1st, but in the meantime, you can check out the Retiring Products List by Stampin' Up! The easiest way to check if an item is still in stock is to look it up in my Online Store.  If it comes up, it is still available to purchase!
Watch the Stampin' Up! video and enjoy dreaming about the Eastern colors and design coming in the new Eastern Palace Suite by Stampin' Up!