A few more Easter projects!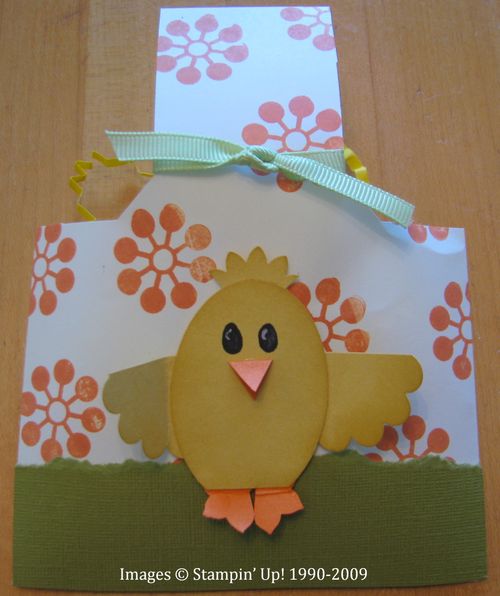 Had to make another "envelope basket" like in this post, but I was ready for something different than bunnies, as cute as they are!  I got this chick idea from Mercedes Weber on Splitcoast….not sure I made it exactly like hers but it served the purpose.  I stamped the envelope with one of the "Wow Flowers" and added a little grass at the bottom with a piece of textured Kiwi Kiss paper.  The chick is punched from the large oval punch for the body, the Scallop Circle punch cut for the wings, and flowers from the Boho Blossoms punch for pieces of the feet and top of head.  I just drew in his eyes with a black marker (always add a little white twinkle of sorts with a gel pen for eyes to make them come alive!) and cut a little orange triangle for his beak.
And one more envelope basket….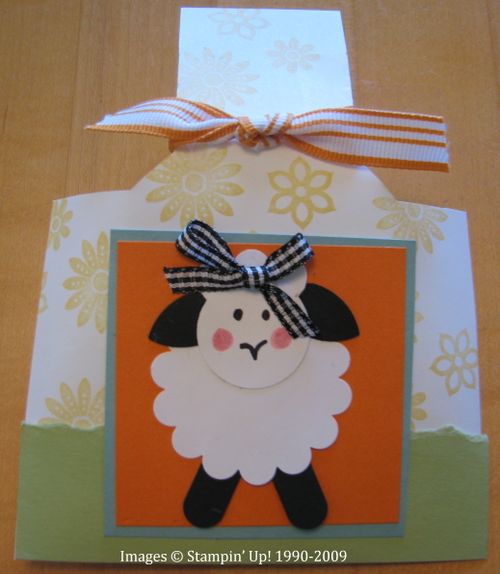 This punched lamb is inspired by MariLynn on Splitcoast.  Again, I wasn't exactly sure how hers was made but this is close.  It's just fun to play with the punches!  The body is the Scallop Circle punch, the legs the Word Window Punch, the ears part of the 5-Petal Flower Punch.  The face is just drawn on.