I just LOVE making these nugget tins!  They really are just rectangular tins but got the name nugget tins because Hershey's Nuggets chocolates fit so well inside and are so easy to decorate!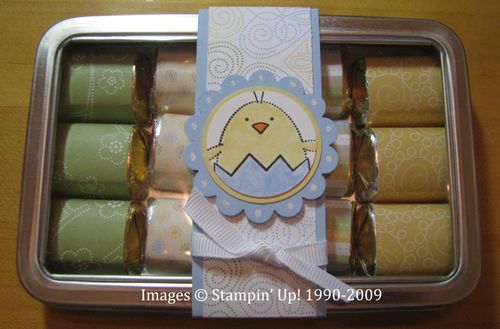 You can choose your "flavor" of Nuggets by what color paper you want showing….gold or silver!  Just cut 1" x 3" strips of Designer Paper and adhere to your nugget.  I like to put just a dab on SNAIL in the middle of the strip to hold it on to the candy and then either a mini glue dot or the Tombow Multi Glue (hold it for just a second until it sticks) as it wraps around the nugget.  Twelve nuggets fit in the box with a little room to spare.  Then you can get really creative!  I usually make a belly band by just wrapping some cardstock and/or Designer Paper around the tin.  Here I have used the DSP from Sale-A-Bration but of course you can use anything you like.  I stamped the chick from "A Good Egg", punched it with the 1 1/4" circle punch, layered on a 1 3/8" circle punch and then layered that on the Scallop Circle Punch.  I used the SU White Gel Pen to put the little dots on the scallops just for some extra fun!
Here is a link to where I purchased my tins:  http://www.specialtybottle.com/index.asp?PageAction=VIEWPROD&ProdID=410
Happy Easter Week!