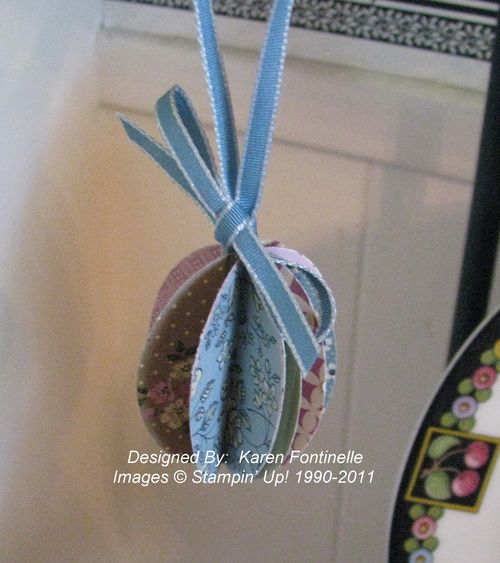 Easter eggs are fun to make, especially when you use beautiful Stampin' Up! paper!  These eggs are very simple to make and a great way to use up some paper scraps.  I used the Springtime Vintage Designer Series Paper #121782 for this one and some 1/8" Marina Mist Taffeta Ribbon #119257.  Get out your Extra-Large Oval Punch #119859 and some adhesive and you're ready to go!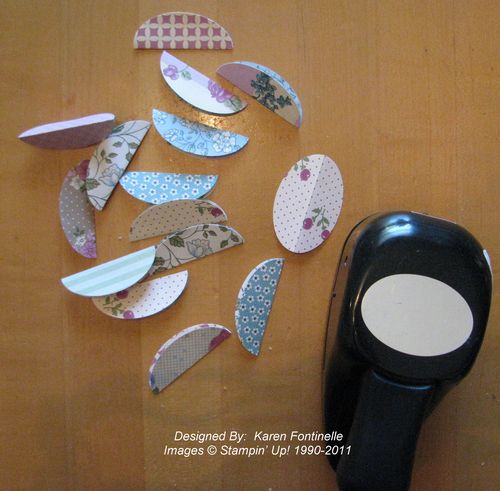 I simply punched lots of ovals from the Springtime Vintage paper and folded in hang lengthwise with my bone folder.  Then you just glue one side of an oval to the side of the next oval.  I put about nine ovals together. You can do whatever number you like.  Before you glue the last sides together, insert your ribbon as far to the center as you can so you will have something to hang the egg by….if that is what you want.  They would also look cute as a bunch of eggs all sitting in a bowl or basket.
Have fun making some cute Easter decorations with these paper eggs! If you have any questions, just ask!
Shop for your papercrafting supplies at my Online Store!