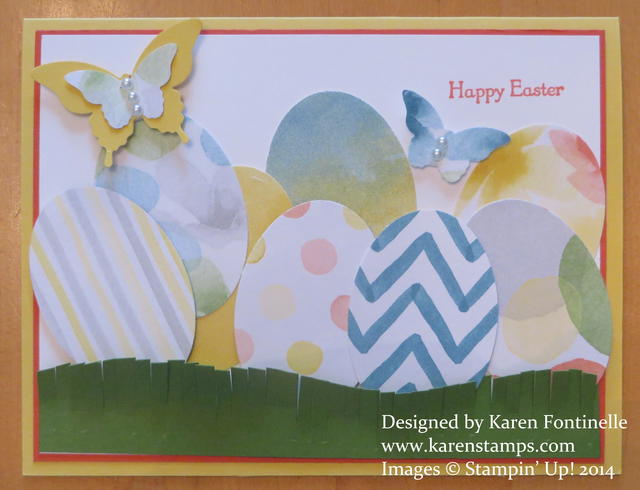 Next Sunday is Easter so it is time to be making some easy Easter cards. For this card, the easy way to make Easter Eggs is to punch designer series paper with the Extra-Large Oval Punch. I chose the Watercolor Wonder Designer Series Paper to use because of the lovely colors and even the variations in shading, which is often how dyed Easter eggs come out when you make them. You can choose any pretty paper you like. For the strip of grass, I used my new Fringe Scissors and then pulled it a little back and forth with my fingers to give it some texture like grass. Then just arrange the paper Easter eggs however you like, perhaps adhering some flat on the card layer and popping some up with Stampin' Dimensionals. I stamped the Happy Easter greeting in the upper corner with Tangerine Tango ink with a stamp from the Teeny Tiny Wishes. Love that stamp set, if I haven't said that already in other posts!  It always has something I can use, and if just the stamp is too small for your card, you can always layer it on some punched pieces to make it appear larger.
Now lest you think an experienced Stampin' Up! Demonstrator can stamp easily with no mistakes, I'll tell you the story of the butterflies! After I stamped the Easter greeting and turned it over to apply adhesive, somehow it got a smudge of Tangerine Tango ink on it!  And I already had the eggs glued on and everything. Sometimes a good tip is to do your stamping first so in case you mess that up, you haven't ruined the whole card. So in order to cover my two little smudges of ink in the wrong place, I punched out a piece of Daffodil Delight card stock with the Elegant Butterfly Punch and layered it with the smaller butterfly, punched with the Bitty Butterfly Punch out of a scrap of Watercolor Wonder DSP and added the Pearl Jewel Accents. Then for fun I punched another Bitty Butterfly from the Watercolor Wonder DSP, added some pearls and stuck him on another Easter egg!  Ink smudge fixed!
If I had it to do over, I would have probably put another egg or two on the front of the grass, not all of them behind the grass.  But I still like this card a lot the way it is!
Before the Easter Bunny comes to hide the eggs in your yard, you might want to check for any poison ivy in the yard that someone could get into! Why do I say that?  Because over a month ago my husband was raking leaves in the backyard by the back fence and apparently got some poison ivy oil on him. I guess he suspected it soon enough and was able to wash it off, although he did get a small blistery patch on the inside of his arm above his wrist but it went away pretty quickly. But then SOMEHOW I got it on my arm, maybe from the laundry, and have been battling it ever since, even having to go to Urgent Care one weekend when we were out of town for a stronger dose of steroid. That worked great and it went away – but as soon as that medicine was out of my system, the itching started again and the rash came back. I think it is mainly my body having an allergic reaction to getting poison ivy for the first time. It took awhile, but my husband finally identified a plant by the fence where he had been raking leaves that is most likely the poison ivy. Why is poison ivy growing in our backyard??!!! So don't let your Easter egg hunt be ruined by any poison ivy in your yard!!
For any stamping supplies you need, please visit my Stampin' Up! Online Store HERE. Remember, there are lots of other occasions coming up, like graduation, Mother's Day, and weddings!