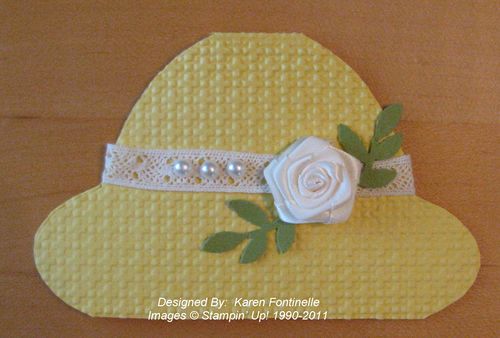 Easter Parade 
In your easter bonnet, with all the frills upon it, 
You'll be the grandest lady in the easter parade. 
I'll be all in clover and when they look you over, 
I'll be the proudest fellow in the easter parade. 
On the avenue, fifth avenue, the photographers will snap us, 
And you'll find that you're in the rotogravure. 
Oh, I could write a sonnet about your easter bonnet, 
And of the girl I'm taking to the easter parade.
—Irving Berlin
Doesn't that song just take you back to another time?  When I was a little girl ladies always wore hats to church.  I always had a new hat, white gloves, dress, shoes, and maybe a coat for Easter Sunday.  I still remember getting into my grandma's closet and looking at her boxes of hats. Now some of them are in my closet as a keepsake.
To make your own representation of an Easter bonnet with lace trim, just find or make your own template for the hat and cut on folded cardstock. Just place your template a little above the folded line so you won't cut it.  I ran this hat through the Lattice embossing folder to give it the look of a spring straw hat.  Originally I planned on some Melon Mambo flowers, but then I went for a simpler look with some Crochet Trim lace, a Vanilla Rosette, some leaves punched with the Bird Punch and a few pearls along the band!  Make yourself an Easter bonnet and see what you come up with!