Here are some easy little Easter baskets that you can make any size you want, just start with a square.  Then I used various "punch art" I'd seen on the internet to decorate the baskets.
Here's what twenty of these baskets look like!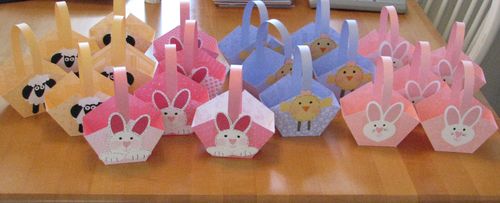 To make it easy, I used sheets of patterned paper from various Stampin' Up! paper packs I had in my stash.  They came 6×6 so all I had to do was score, cut and assemble.  See THIS POST for how I made these baskets.  Click on the photos to enlarge them.  
These baskets really are fun to make and easy!  Instead of the punch art just decorate your basket with ribbon or buttons or flowers or a sentiment. Just start and you will see how addicting they are!  Let me know if you have a question!